If you are looking for the magic ingredient that makes Sichuan food so irresistible, look no further – this is it! Smoky, garlicky, salty, and hot, this all-purpose chili oil can turn a boring veggie or noodle dish into one of the best meals of your life!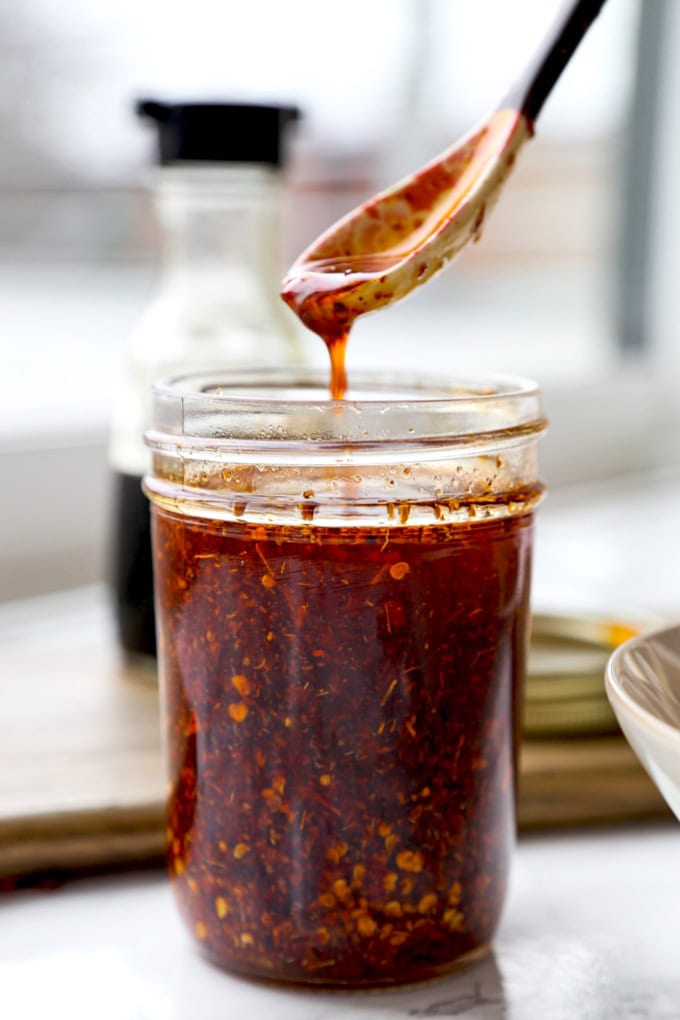 I've been missing good Sichuan food lately, especially from Han Dynasty, our go-to restaurant that was walking distance from our place in Brooklyn.
Ben and I used to go there almost every weekend to order our usual cumin fries, spicy mung bean noodles, and double cooked fish. The place wasn't cheap but we could never get enough of their magic sauce. Almost every dish was served with the same spicy, salty, and fragrant oil. You'd think we'd get bored of it but it was the exact opposite – the oil was so good that we wanted to bottle it up and take it home!
But 10 months ago we had to say goodbye to dear old Brooklyn in order to be closer to an ailing parent, and temporarily relocated to Des Moines, Iowa.
Since then it's been a bit of a challenge to find good Asian food. Plus, with the current situation this country is facing, it's not as if we would feel comfortable eating out anyway. We spend most of our time at home except for one weekly trip to the grocery store (both wearing masks) and a daily walk, or two.
This means I've had time to expand my pantry with plenty of basic homemade Asian sauces and flavored oils. It makes cooking so much easier and faster! I can use one sauce to make a quick stir fry, use another one to marinate fish or tofu, or grab a finishing oil to drizzle over noodles. Huge time savers!
This hot Sichuan chili oil holds a permanent spot in my pantry. It's Ben's favorite condiment, to the point where he puts in on absolutely everything. It may not taste exactly like the one from Han Dynasty but it's pretty close to it, and I'm really happy with the result!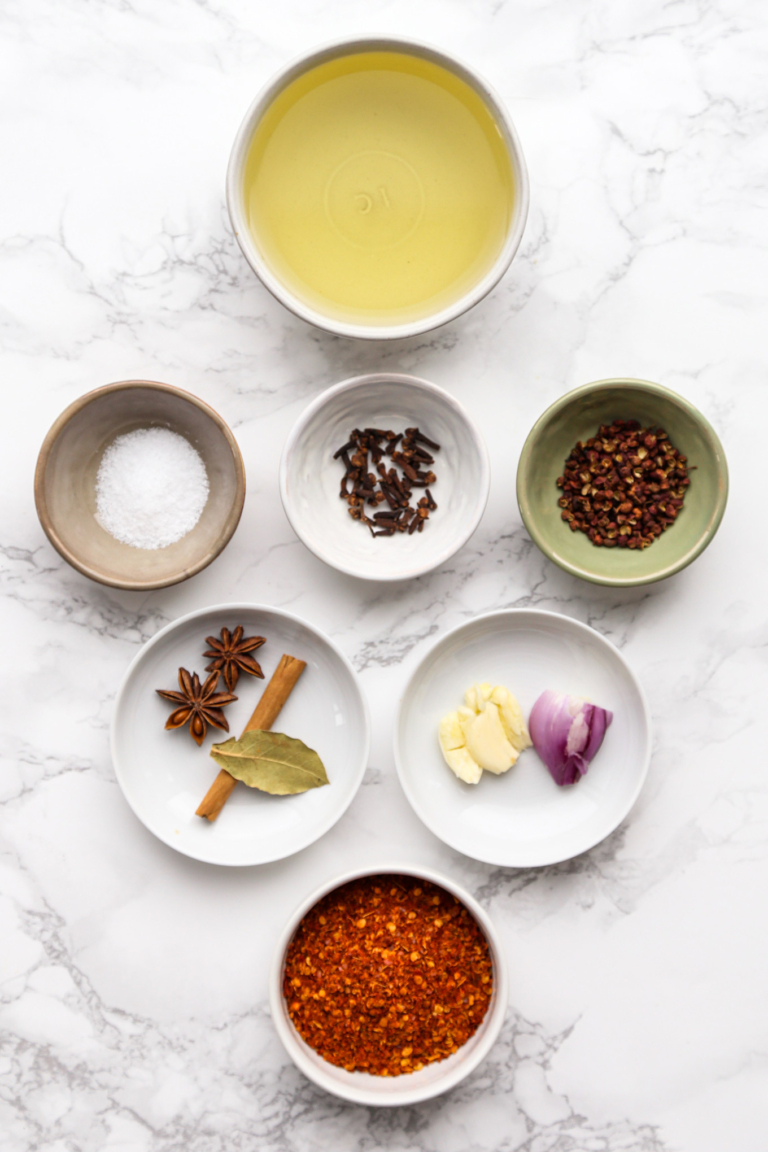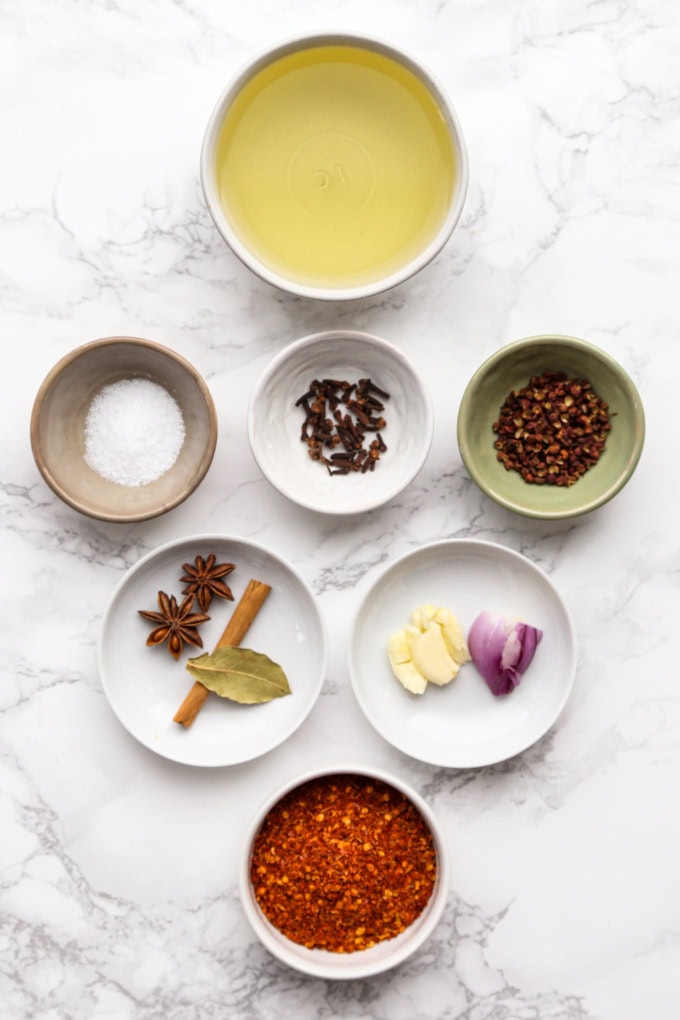 Ingredients for Chili Oil
Oil: You can use any type of neutral oil since we won't be cooking it at a high temperature. Just stay away from oils such as olive oil or coconut oil as the strong flavor will clash with the other ingredients.
Star anise: You can really taste the star anise in this chili oil! The sweet licorice taste of this star shaped plant marries perfectly with the mixture of smoky, salty, and hot flavors.
Cinnamon stick: A simple cinnamon stick can add an interest mix of woody, pungent, and sweet taste to the oil.
Bay leaf: When bay leaf steeps in liquid for a while it develops a minty, peppery taste.
Cloves: Cloves infuse the oil with pungent and astringent flavors that leave the mouth with a slight puckery and numbing effect.
Garlic: Aside from being smoky, salty, hot, and aromatic, this chili oil is also very garlicky! Just lay your knife flat over the bulb and lightly crush it.
Shallot: The shallot adds a little sweetness and bitterness to the oil. If you don't have a shallot you can use 1-2 scallions stalks, chopped.
Szechuan peppercorns: Aside from the Chinese chili flakes, Szechuan peppercorns are the other ingredients that infuse the oil with plenty of heat. They also produce a numbing sensation around the lips and tongue which is a common quality found in Sichuan cuisine.
Chinese chili flakes: Holy smoky! Chinese chili flakes are added in the end to add a fiery red color, heat and smokiness to the oil.
Salt: The salt is also very important because it's what brings all the flavors together and gives the oil an assertive taste.
Cooking Tools Needed
Chef's knife
Small pot
Strainer
Glass or ceramic bowl
Jar or other storage container with a lid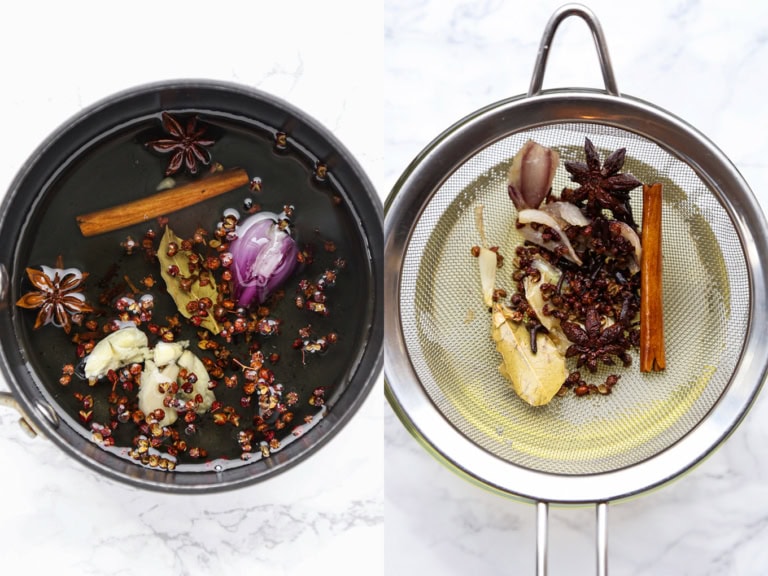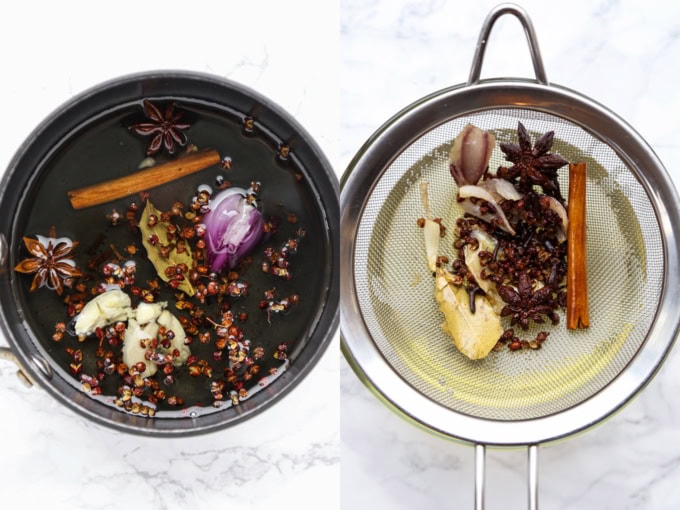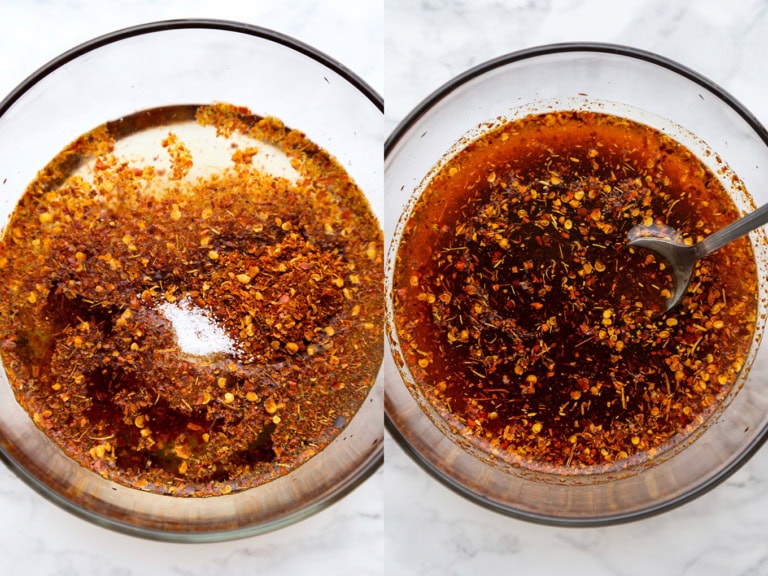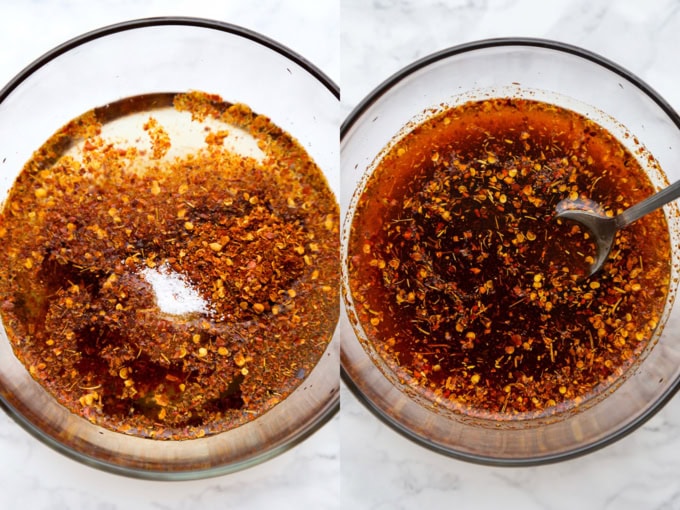 What are Sichuan Chili Flakes?
Also called Chinese chili flakes, Sichuan chili flakes are made by deep frying whole Sichuan peppers in vegetable oil until crispy, and grinding them into flakes (seeds included). This method enhances the flavor and smokiness of the chili flakes and gives them a fiery red color (other chili flakes are pulverized after being dried, not deep fried).
Homemade Chili Oil vs Store Bought
When it comes to good quality chili oil,  it's safe to say that homemade chili oil is better than store bought (by leaps and bounds). It contains no preservatives and is made by only using fresh ingredients and spices. The flavors are more complex, and the best part is you can tweak it to make it exactly how you like it!
Store bought chili oil often has a burned bitter taste I personally don't like and tend to be one note in the flavor department.
To be honest, the only store bought chili oil I've ever liked is Lao Gan Ma chili crisp. And that's because it has everything – it's fragrant, spicy, hot, salty, nutty, smoky, and garlicky. But it also contains preservatives such as sulfur dioxide and sodium sulfite – two ingredients I try to avoid eating if I can.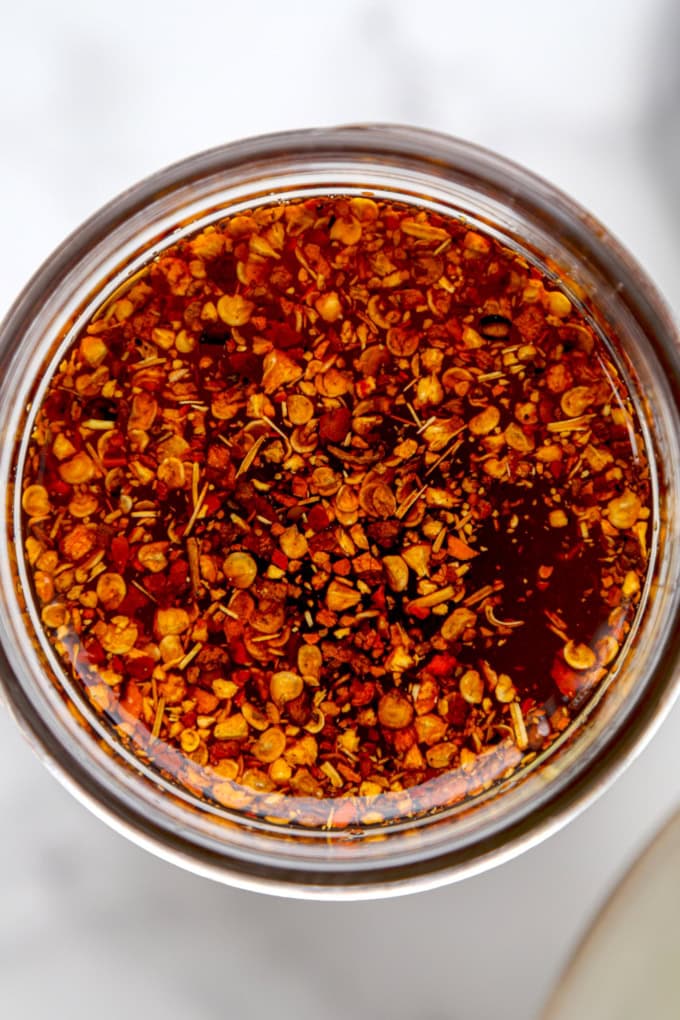 How to Make Chili Oil
Gather all of your ingredients and place a small cooking pot in front of you.
Add the oil, star anise, cinnamon stick, bay leaf, cloves, crushed garlic, crushed shallot, and Szechuan peppercorns, to the pot.
Place the pot over a burner and turn the heat on low. Bring the temperature of the oil to 200ºF – it's okay if it goes up to 220ºF- 230ºF – and cook for 40 minutes.
Strain the oil through a sieve into a glass or ceramic bowl, and discard the ingredients left in the sieve.
Stir in the Chinese chili flakes and salt and let the oil cool to room temperature.
Transfer the oil to an airtight jar or storage container and keep in a dark, cool place.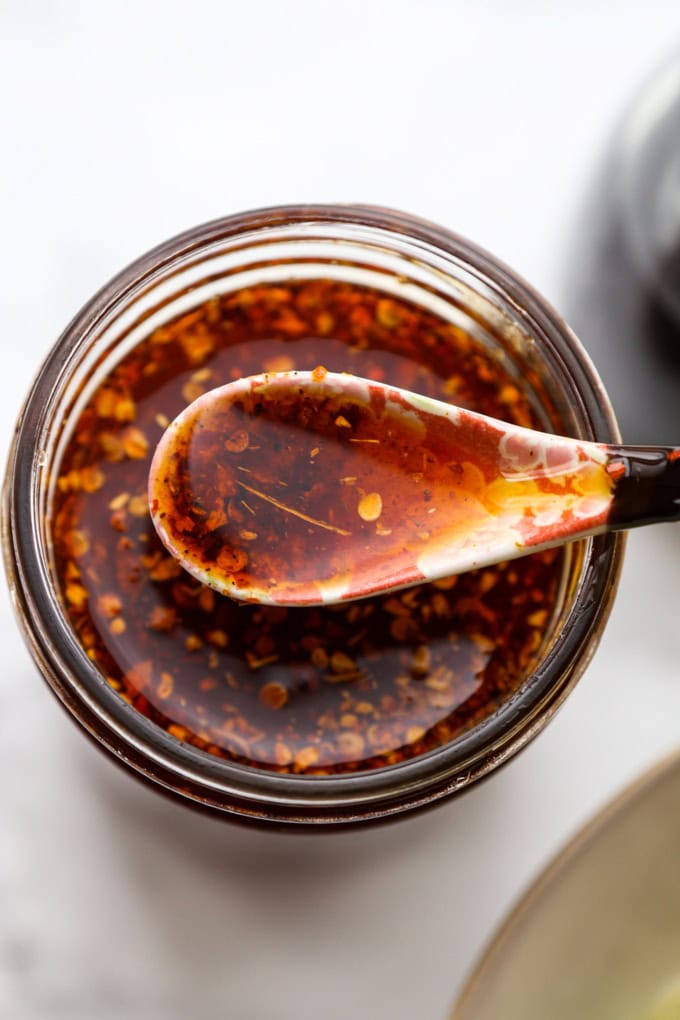 What is Chili Oil Used For?
This chili oil should only be used as a finishing oil that's added at the end of the cooking process. You can drizzle some in a pan over meats and vegetables just before turning the heat off, or add it over your food once it's been plated.
You can also use it as a flavor enhancer to noodle dishes (it's so good together with soy sauce!), dippings sauces, and soups.
You can even use it on French fries!
Try this: place your French fries in a bowl and drizzle a little Sichuan chili oil on top. Sprinkle a little cumin powder and toss the fries. You won't believe how good it is!
I've picked a few of my recipes that you can pair with this chili oil. Follow the recipe step by step and finish with a drizzle of oil: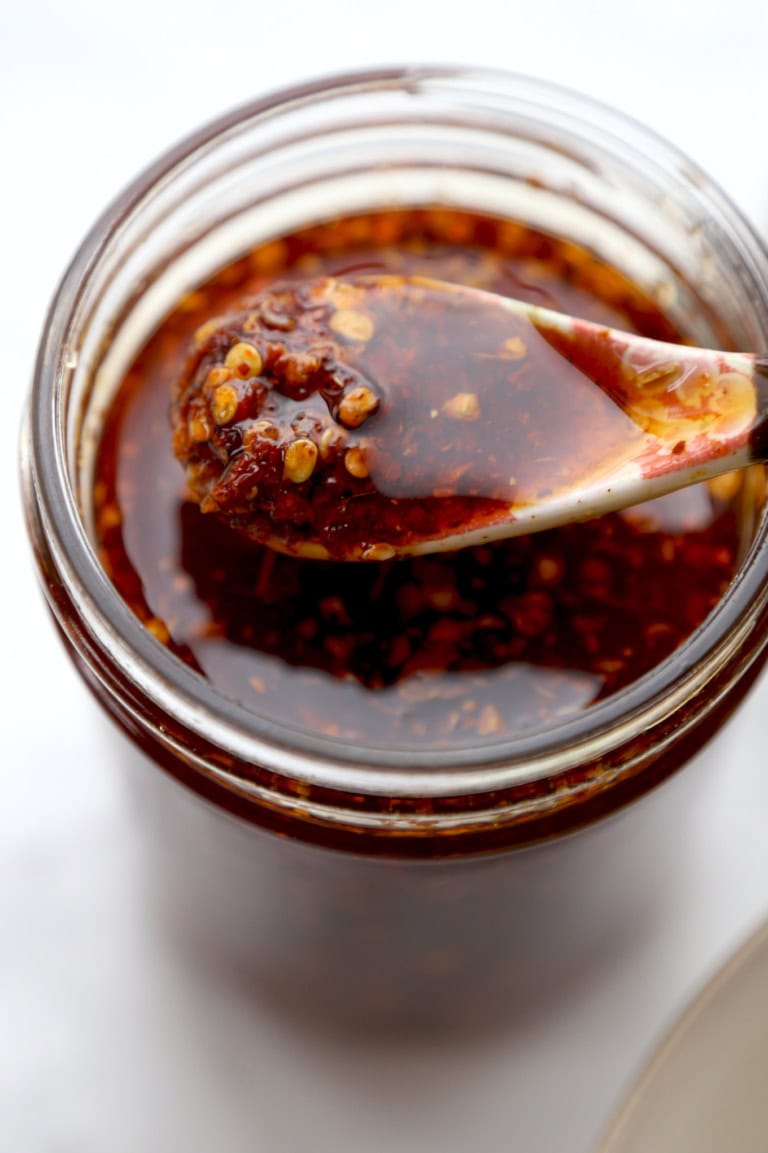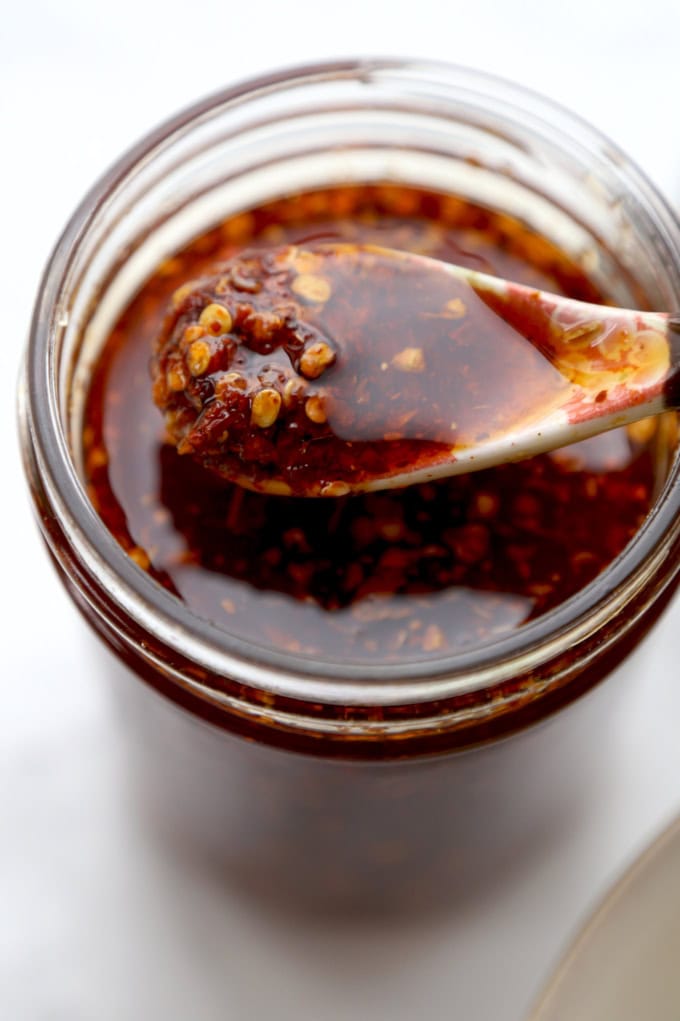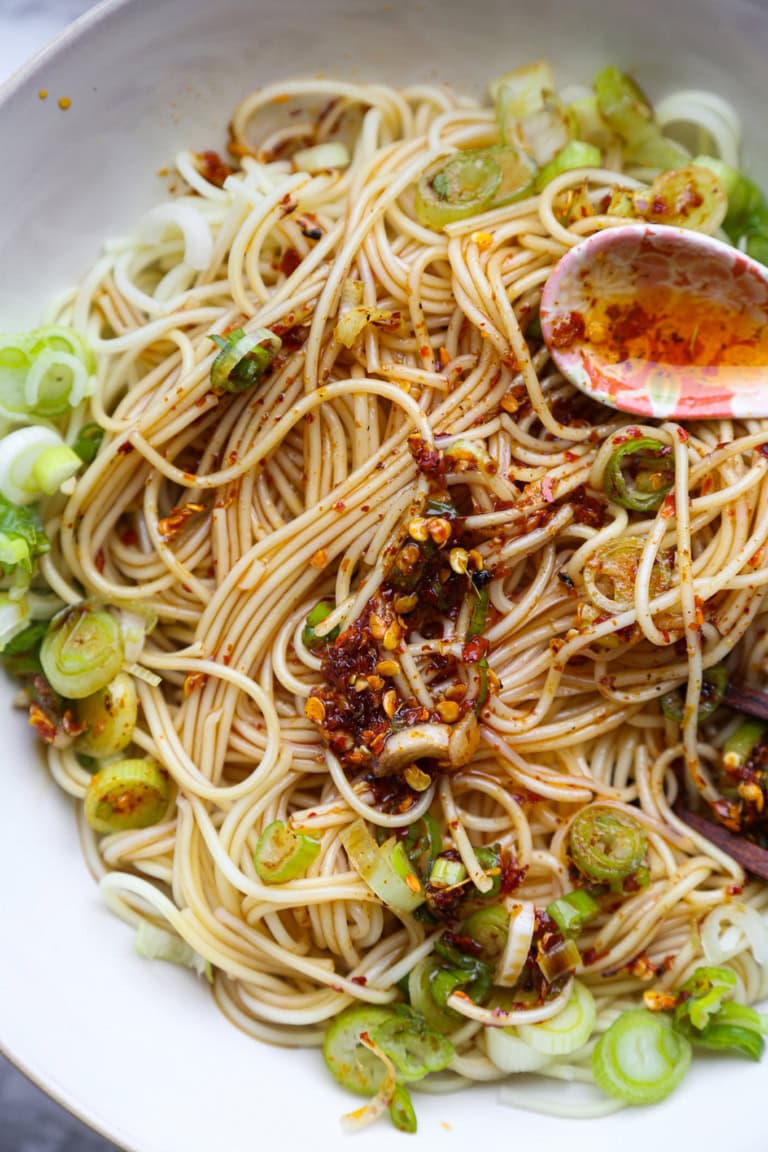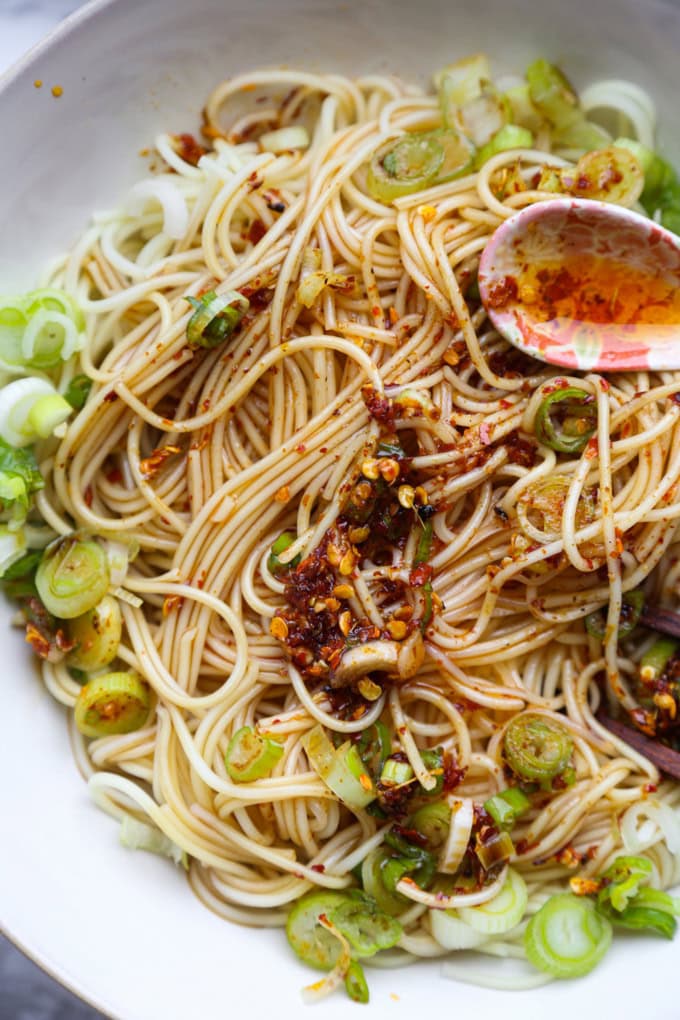 Did you like this Hot Sichuan Chili Oil Recipe? Are there changes you made that you would like to share? Share your tips and recommendations in the comments section below!
Print
Hot Sichuan Chili Oil
Smoky, garlicky, salty, and hot, this all-purpose chili oil can turn a boring veggie or noodle dish into one of the best meals of your life!
Author: Caroline Phelps
Prep Time:

5 minutes

Cook Time:

40 minutes

Total Time:

45 minutes

Yield:

1 cup

1

x
Category:

Condiment

Method:

Stove top

Cuisine:

Chinese
1

cup

neutral oil such as vegetable or grapeseed oil

2

star anise

1

cinnamon stick

1

bay leaf

1 teaspoon

cloves

1

garlic clove, peeled and crushed

1/2

shallot, peeled and crushed

1 tablespoon

Szechuan peppercorns

1/4

cup

Sichuan chili flakes (also called Chinese chili flakes)

1/2 teaspoon

salt
Instructions
Put the oil, star anise, cinnamon stick, bay leaf, teaspoon cloves, garlic clove, shallot, and Szechuan peppercorns in a small pot, and turn the heat to medium high.
When the oil temperature reaches 200ºF – there should tiny bubbles coming to the surface – let the ingredients infuse the oil for the 30-40 minutes. Keep an eye on the temperature (it's okay if it goes up to 220-230) and ingredients to make sure they are burning too quickly (getting dark in color).
Set a glass or ceramic bowl down and place a strainer on top of it. Turn the heat off and carefully strain the oil through a sieve, into the bowl. Discard the ingredients that are left in the strainer.
Add the Chinese chili flakes and salt and gently stir to mix. Let the chili oil cool down to room temperature and transfer it to an airtight storage container.
Notes
How to store chili oil: Keep this homemade chili oil in a cool dark place. It will keep for up to 4 months.
Nutrition
Serving Size:

1 tablespoon

Calories:

122

Sugar:

0.1g

Sodium:

73.1mg

Fat:

13.9g

Saturated Fat:

11.1g

Unsaturated Fat:

0.3g

Trans Fat:

0g

Carbohydrates:

0.8g

Fiber:

0.4g

Protein:

0.2g

Cholesterol:

0mg
Keywords: Seasoned oil, ramen seasoning, flavored oil
Recipe Card powered by