This is a vegan recipe for dan dan noodles you won't be able to stop eating! Chopped mushrooms replace the ground meat and bring earthiness to this spicy, nutty and tangy noodle dish. It's yummy!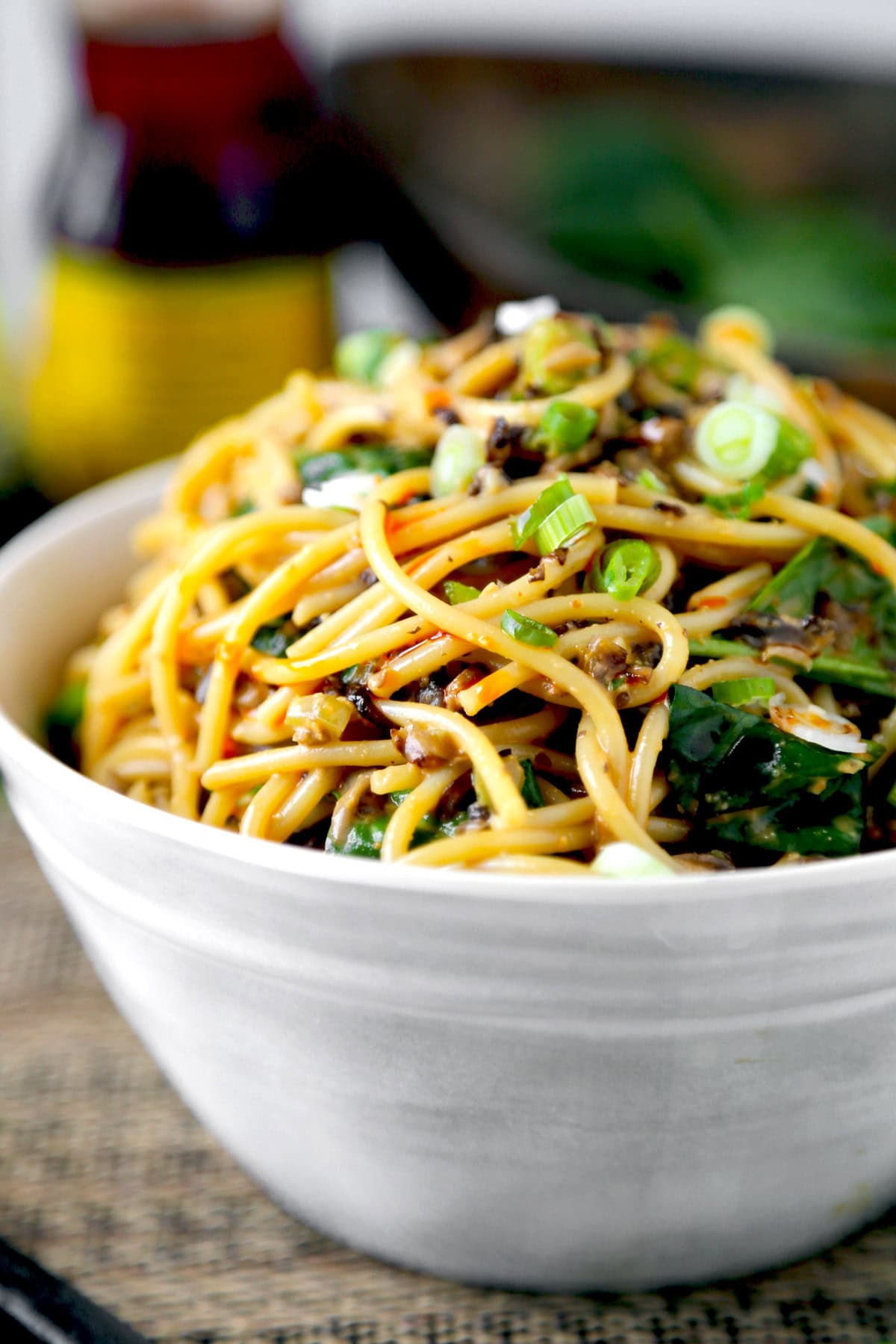 Certain dishes are just better without meat. Even ones that traditionally use meat such as the classic Chinese dan dan noodles.
Using mushrooms instead of ground pork impart so much earthiness and umami to the dish, making it almost impossible to stop eating! The noodles and mushrooms are tossed in a sauce packed with spicy, pungent, nutty, and sour flavors. It's one of my favorite noodle recipes of all time.
I think you will absolutely love these vegan dan dan noodles once you try them!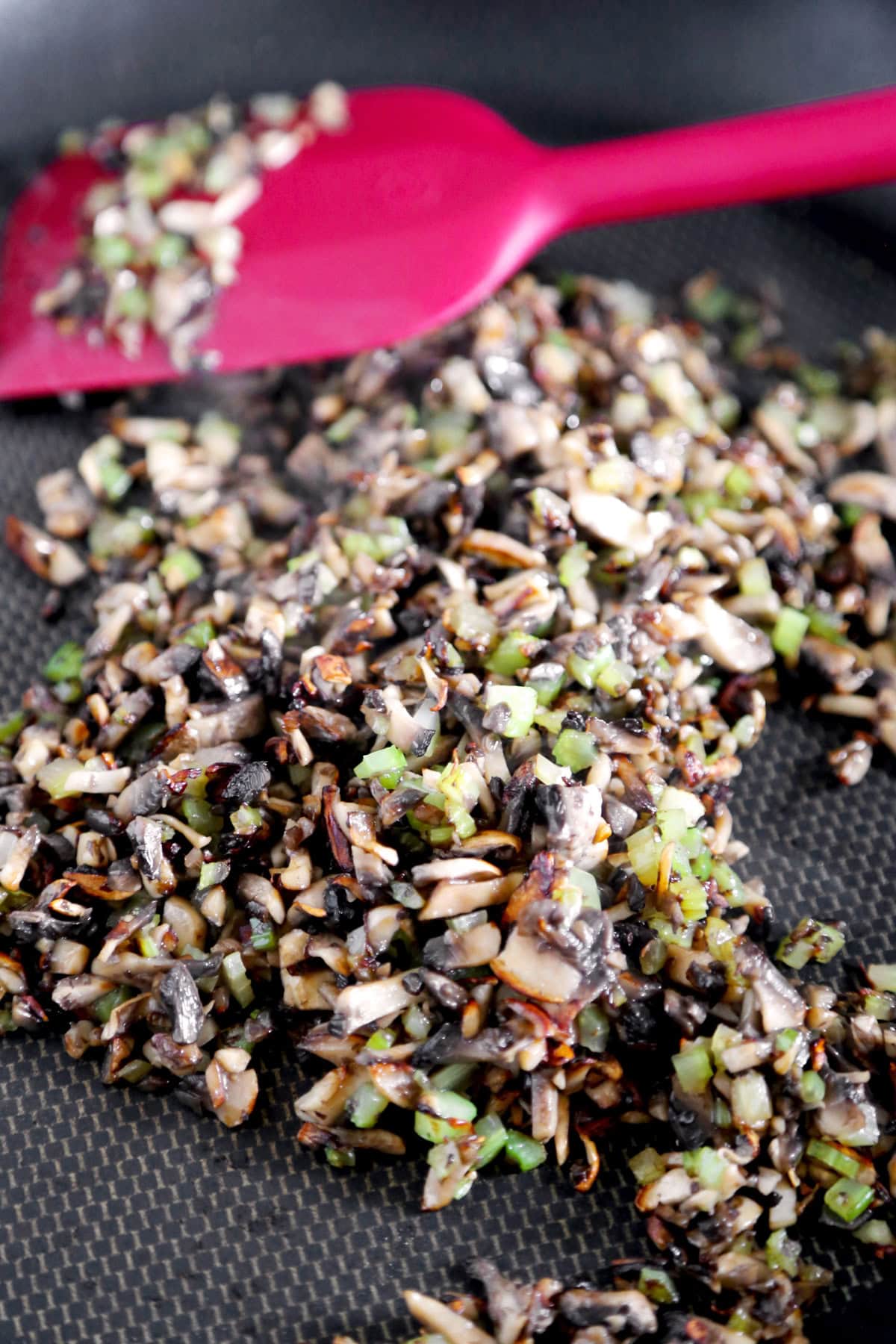 What Are Dan Dan Noodles?
Traditional Chinese dan dan noodles (担担面) are a mixture of chili oil, ground meat, sauce, leafy greens and noodles. And, while there are many versions of this dish, the one overarching similarity between them is that they're usually quite spicy!
Many recipes will call for the use of Sichuan peppercorns. Those are the face numbing peppercorns you'll also frequently find in recipes like mapo tofu. Well, it's gotta be said that I'm not a big fan of the mouth numbing qualities of those peppercorns. For me they tend to hijack all other flavors.
So I left them out of this mushroom dan dan recipe—but if you like spicy noodles then go ahead and add them!
Also, traditional Sichuan dan dan mien can be served dry or in more soup-like preparations. However, for this vegan version, I'm keeping it a simplified version of vegan dan-dan noodles recipe that is more on the dry side of things. You're absolutely gonna LOVE how easy it is to whip up at home!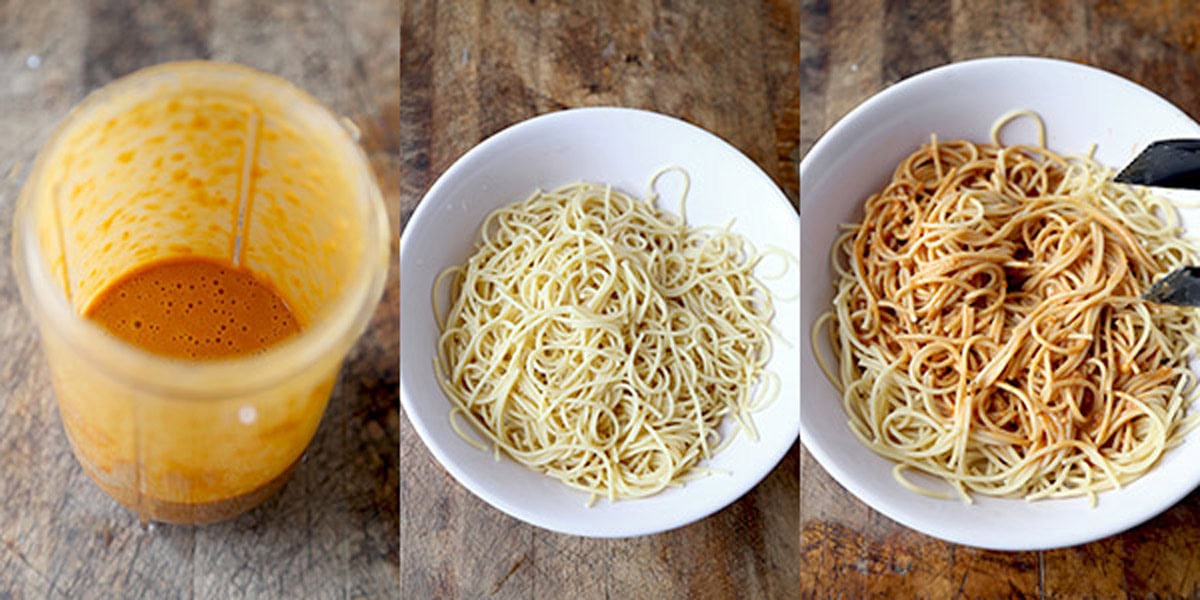 Vegan Dan Dan Noodles Ingredients
Noodles: You can use any type of thin wheat noodles, fresh wheat noodles, or egg noodles for this dish such as thin spaghetti or lo mein noodles.
Oil: Peanut oil adds a nutty flavor to the dish, but since we are already using peanut butter to impart that flavor, you can use any neutral oil such as vegetable or grapeseed oil as well.
Celery: I love the crunch of the celery in this dish! They also add a refreshing element.
Mushrooms: Button white mushrooms is what I recommend using since they mimic the texture of ground pork. But feel free to use any type of mushrooms.
Baby Spinach: Baby spinach makes the dish bright and colorful and add another element of freshness.
Scallions: Have you ever eaten an Asian dish that doesn't include scallions? Me neither. Scallions add sweetness, a mild bitterness, and a lovely crunch.
Dan Dan Sauce A mixture of minced garlic, minced ginger, rice vinegar, chili oil, soy sauce, peanut butter, sugar, and salt.
Great Alternative Ingredients
These ingredients can also be used to as substitutes:
Shiitake mushrooms
Chinese sesame paste
Black vinegar
Chilli oil
Brown sugar
Vegetable oil
Olive oil
White pepper
Coconut Sugar
Chilli flakes (especially if you're a fan of spicy food)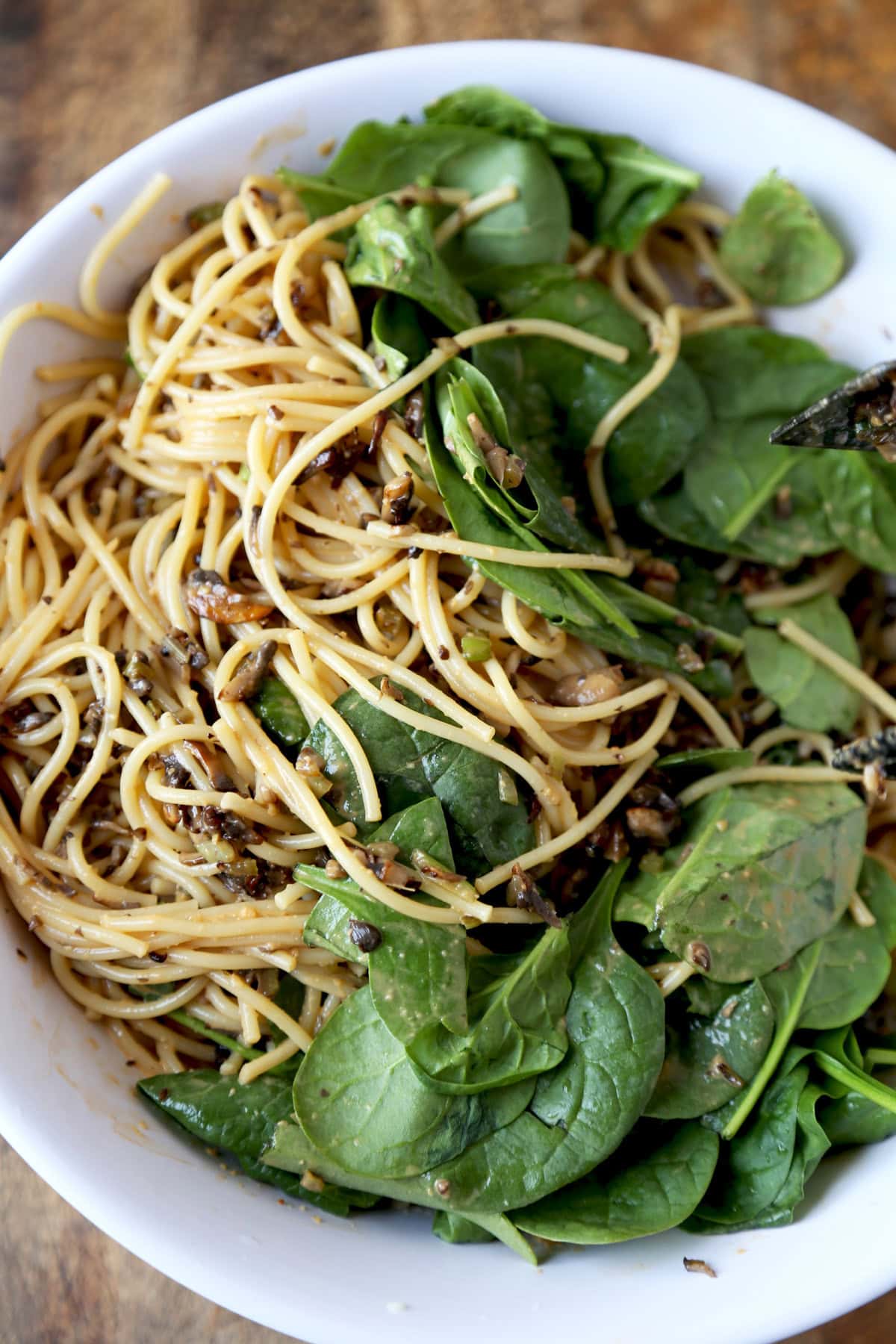 How to Make Dan Dan Noodles
Gather all of your ingredients and cooking tools.
Start by filling a pot with water and bringing it to boil. Cook the noodles according to the directions on the package. Drain the noodles, rinse them under cold water, and drain well.
Transfer the noodles to a large mixing bowl and set aside.
Add the oil, chopped mushrooms, and celery, to a pan over medium heat, and stir fry the mixture until the mushrooms are tender, almost caramelized (8-10 minutes).
Meanwhile, make the dan dan sauce by add all the ingredients in a blender and blending until smooth.
Pour the sauce over the noodles and toss until the noodles are evenly coated. Season with salt if needed.
Add the mushroom mixture to the noodles and toss well.
Add the spinach and scallions and toss well. Enjoy!
Adding the baby spinach last makes the leaves wilt just enough that they don't get soggy or watery. Noodles, celery, mushrooms, and spinach are tossed in this nutty, spicy, sour, sweet, and salty sauce to create one amazing vegan dan dan noodle dish.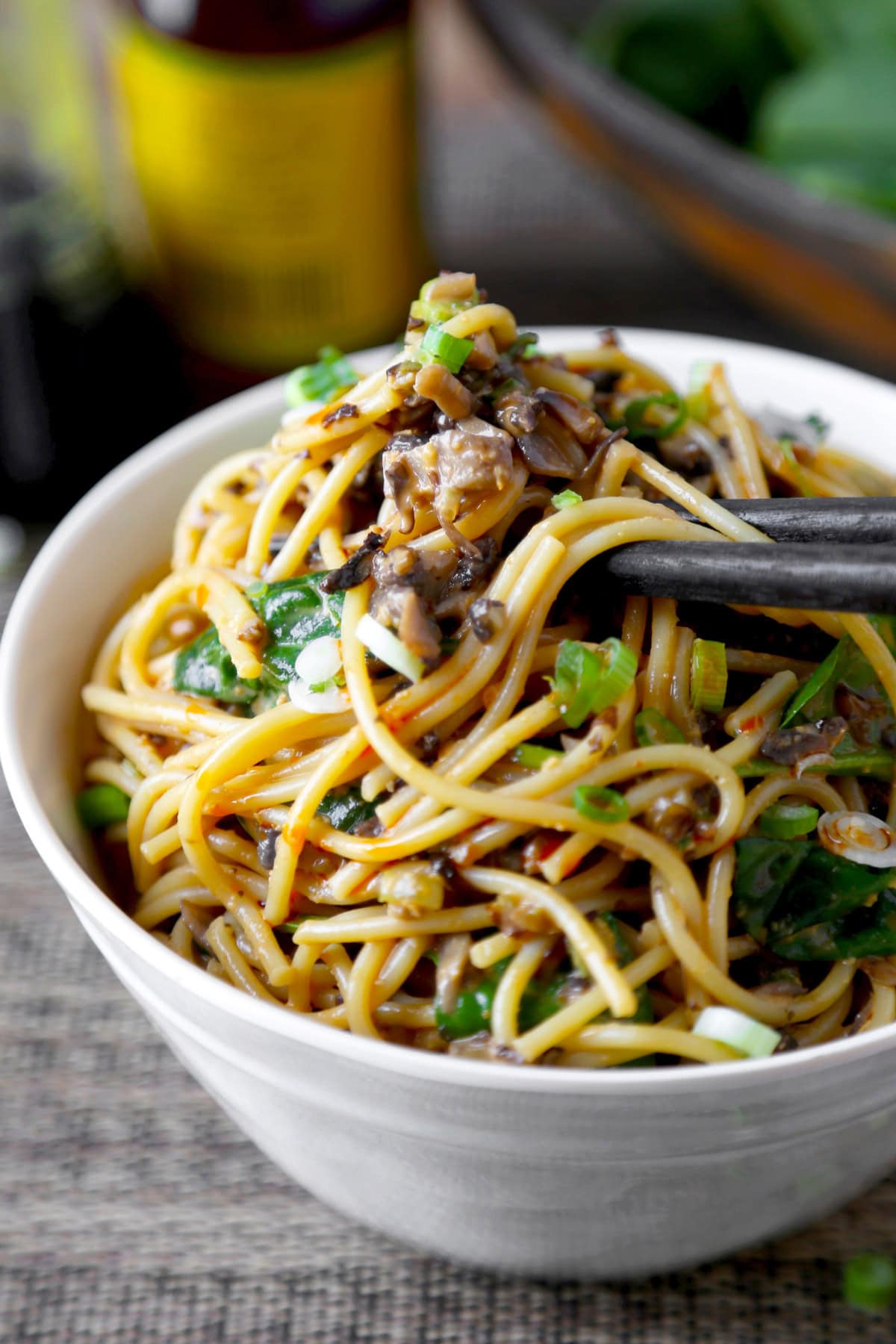 What does Dan Dan Mean in Chinese?
Dan dan noodles got their name from the pole that traditional Chinese noodle sellers used to carry when hawking their yummy wares to a hungry populace—specifically rooted in Sichuan province of China. A dan dan was a carrying pole that had a container at each end. One was a basket of noodles and the other was a container of sauce. The noodle sellers would hike the pole onto a shoulder—balancing the containers on each end. When someone ordered noodles, they'd serve them up and then move on down the road.
Well, it's not uncommon in food history that the name of a dish is set by the populace that savors it. Sure, pole-carried noodles don't have much of a ring to it… But dan dan noodles sounds just right!
What to Serve Dan Dan Noodles with
You can serve these vegan dan dan noodles as a main or a side dish. Since they are quite flavorful, I recommend pairing them with milder dishes that won't overwhelm the palate. Some of my favorites are: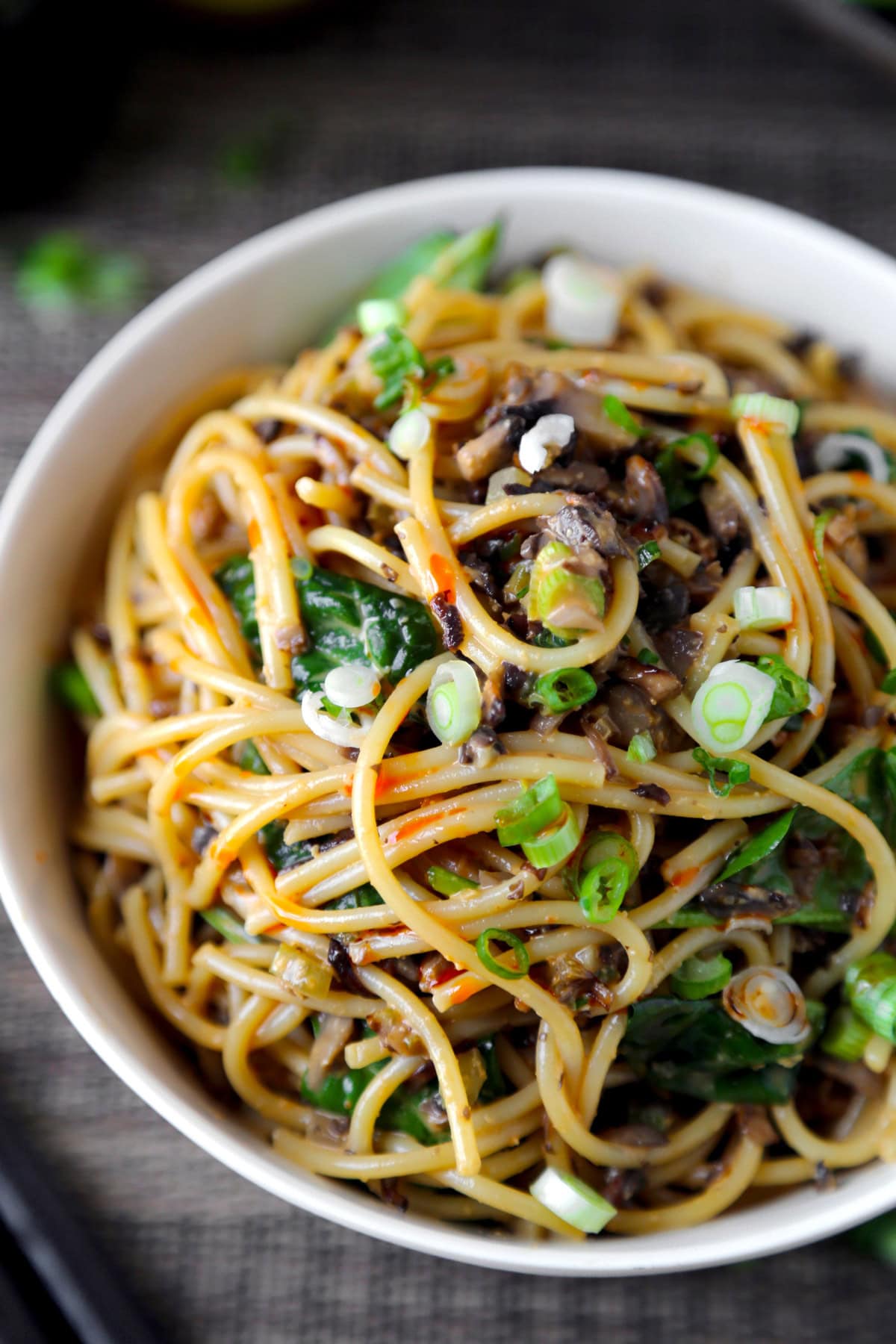 Did you like this Vegan Dan Dan Noodles Recipe? Are there changes you made that you would like to share? Share your tips and recommendations in the comments section below!
---
Print
Vegan Dan Dan Noodles
Chopped mushrooms replace the ground meat and bring earthiness to this spicy, nutty and tangy noodle dish.
Author: Caroline Phelps
Prep Time:

10 minutes

Cook Time:

9 minutes

Total Time:

19 minutes

Yield:

4

people

1

x
Category:

Main

Method:

N/A

Cuisine:

Chinese

Diet:

Vegan
8

ounces

thin spaghetti such as Barilla or De Cecco, which are both vegan

1 tablespoon

peanut or vegetable oil

2

stalks celery (finely chopped)

9

ounces

white button mushrooms (finely chopped)
handful baby spinach

2

stalks scallions (finely chopped)
Dan dan sauce
2

small cloves garlic (minced)

1 tablespoon

ginger (minced)

3 tablespoons

rice vinegar

2 tablespoons

chili oil (use less if you are sensitive to hot dishes)

3 tablespoons

soy sauce

3 tablespoons

natural peanut butter

2 1/2 teaspoons

sugar
salt
Instructions
Bring a pot of water to boil. Add spaghetti and cook for 8-9 minutes, until al dente. Drain, rinse under cold water, drain again and transfer to a large mixing bowl.
In a pan over medium heat, add peanut oil, celery and mushrooms and cook for 8-10 minutes, until mushrooms are beginning to turn a golden brown color. Transfer to a bowl and set aside.
Put all the ingredients for the dan dan sauce in a blender and blend until smooth. Add sauce to the spaghetti and toss until the noodles are evenly coated. Season with salt until you are satisfied with the taste.
Add mushroom mix, spinach and scallions to the noodles and toss well. Serve.
Notes
These noodles taste their best when made fresh but are still delicious cold (after being refrigerated the next day). You can also quickly zap them in the microwave for a few seconds to warm them up.
Store the dan dan noodles in an airtight storage container and refrigerate for up to 3 days.
Nutrition
Serving Size:

1 serving

Calories:

406

Sugar:

7.1g

Sodium:

409.3mg

Fat:

16.g

Saturated Fat:

2.7g

Unsaturated Fat:

4.9g

Trans Fat:

0g

Carbohydrates:

50.5g

Fiber:

5.7g

Protein:

10.8g

Cholesterol:

1.8mg
Keywords: recipe, noodles, Asian, vegetarian, plant based