With the garden fresh fire of salsa fresca and bright cilantro, this Mexican Style Tofu Scramble Recipe could easily pass for a hearty plate of Huevos Rancheros. Completely vegan and ready in 25 minutes from start to finish!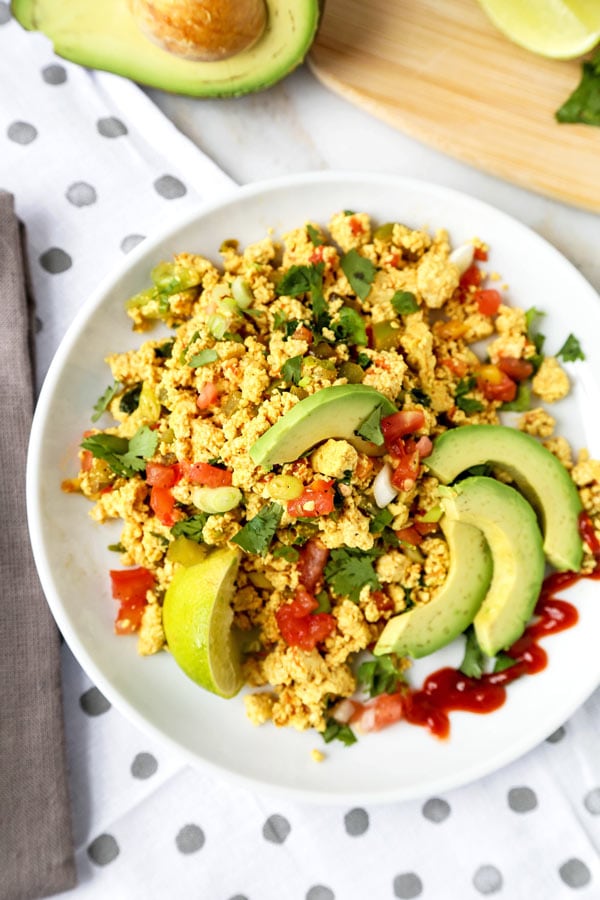 Tofu Scramble (Mexican Style)
You know how everyone says breakfast is the most important meal of the day? Well, I gotta agree… I do feel about a zillion times better when I start the day off with a substantial meal.
And after Ben whipped up a batch of this harissa spiced moroccan oatmeal for brunch this past Saturday, I figured it was my turn on Sunday to assemble a little something.
First, I want it on the record that I didn't set out to make scrambled tofu. But… yes, I had a vegan breakfast idea rolling around – and I wanted to try it out on a willing guinea-pig, hehe. Ben is always up for trying new food.
As he took a bite and chewed, he had a little smile on his face. "Tastes like huevos rancheros," he said and took another huge bite before even finishing the first one.
"I think so too," I said.
"Thought you said you were making a plant-based breakfast, though. I, uh… hate to break it to you," he joked, "but eggs aren't vegan."
When I told him what he was eating was actually a Mexican style tofu scramble, I don't think he believed me at first.
But he didn't stop eating 🙂

A simple tofu scramble. A delicious vegan breakfast recipe
Now, in my mind, the thing that elevates this tofu scramble recipe from the throngs of simple bean curd recipes is the aggressive, south-of-the-border flavor.
With the inclusion of pan sauteed green peppers, garden fresh salsa, cilantro and a nice blast of heat from sriracha, it's easy to see how this recipe mimics some of the iconic flavors you'd find in huevos rancheros.
There's also a bright, tangy element from an optional squeeze of fresh lime – and a cooling creaminess from avocado.
But, this breakfast scramble isn't just a mimic of the rancheros flavor profile. I also used spices like cumin and turmeric for their warming, almost south-Asian flavor properties.
To approximate the texture of scrambled eggs, I used extra-firm tofu. Breaking it up was a breeze (more on that in a sec), and it imparted a more significant heft to the entire meal.
But the best part of using tofu is that it's kind of a blank slate from a flavor standpoint. The old adage of tofu tasting like whatever you cook it with is totally true!
Heck, tofu is so versatile that I could have made a shredded tofu scramble that tasted like Thai basil chicken had I been inclined. It's such a freeing ingredient to work with!
And, since there's a ton of protein in tofu, it's a substantial meal to begin your day with.
This Mexican style tofu dish will definitely be in the steady rotation at my place anytime I need to whip up a delicious and easy vegan breakfast.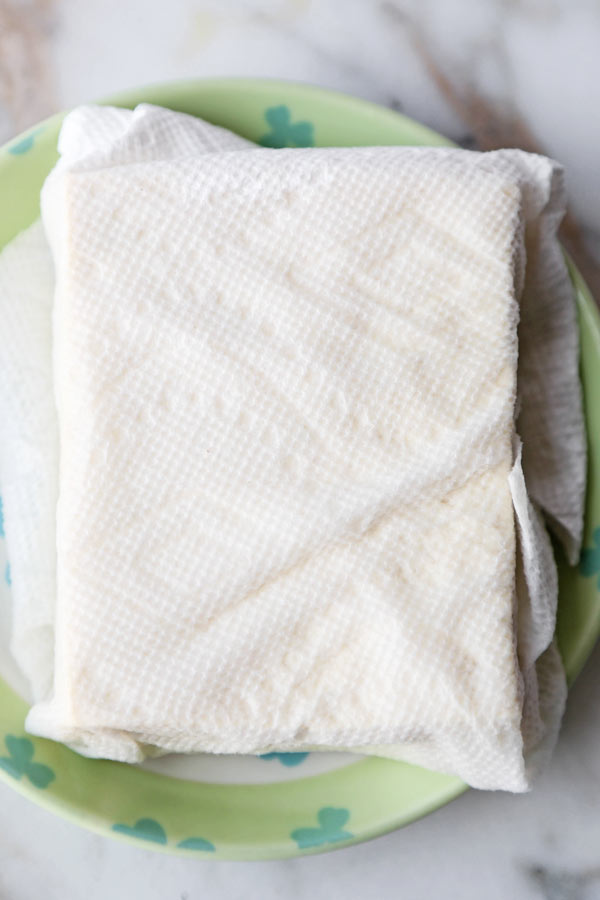 How to cook tofu
Cooking tofu can seem like a bit of an enigma, because there's no one right way to do it.
Just as with most proteins, you can deep-fry, simmer, broil, roast and pan-saute to your heart's content. And very similar to something like chicken, the way you cook it will be dictated by the outcome you're looking to achieve.
But unlike traditional proteins, tofu comes in different levels of firmness (from silken – all the way to extra firm). And the one you choose will contribute to the texture of the final dish. While this breakfast scramble is a pan-sauteed extra firm tofu recipe, let's have a look at a few bean curd recipes that call for different cooking techniques.
Now, for this vegan Mexican style tofu scramble, we'll be using a saute pan to scramble our bean curd.
And, it's super easy!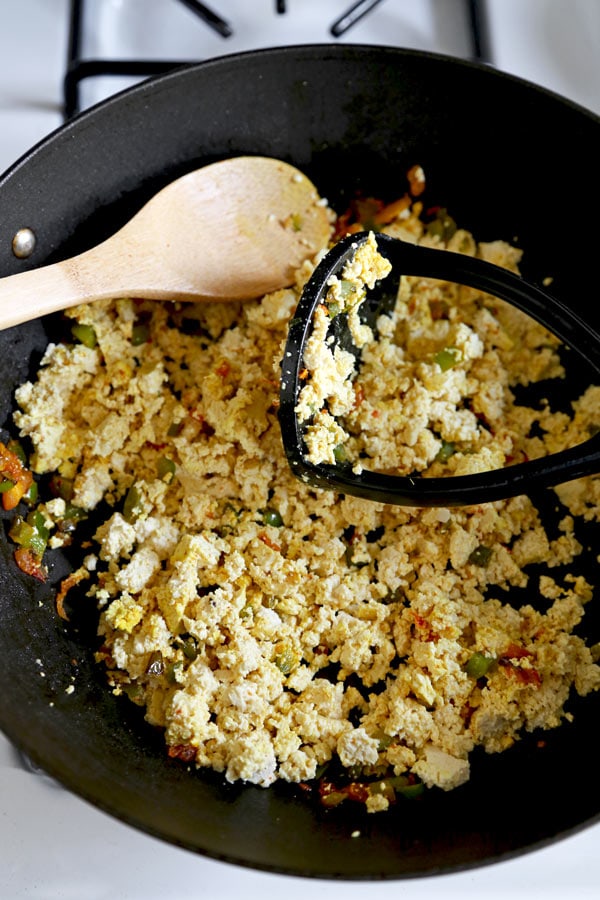 How to scramble tofu
Yep – scrambling tofu is about as simple as it sounds. To get it right for this tofu scramble recipe, all you'll have to do is place it in your saute pan and break it up with a wooden spoon or spatula, or my favorite, with a potato masher, until you get your ideal size.
But, before we start breaking up big blocks of extra-firm tofu, there are a few steps to follow.
First, you'll want to drain your tofu (more on that in the section below).
Then, get a tablespoon of vegetable oil going in a pan over medium high heat – and add half of a finely chopped green bell pepper to the pan. Cook for a couple of minutes until the peppers have softened a bit, then add a half-cup of salsa. You can totally use your favorite store bought brand – or make your own homemade salsa. Your choice!
At this point, it's time to break up your tofu! Add 12 ounces of extra firm tofu to the pan and break it up with your spatula. Cook that for about two minutes and then add a quarter teaspoon each of cumin and turmeric. Mix so the spices coat your crumbled tofu mixture.
Stir in about a tablespoon of sriracha – and then turn off the heat. At this point I like to add chopped cilantro and scallions (and a dash of salt and pepper).
This delicious vegan breakfast scramble is extra wonderful served with sliced avocado and lime wedges on the side!
While there are no tortillas (or rice and beans) in my tofu scramble recipe, the resulting flavor does make me think: tofu rancheros, ha!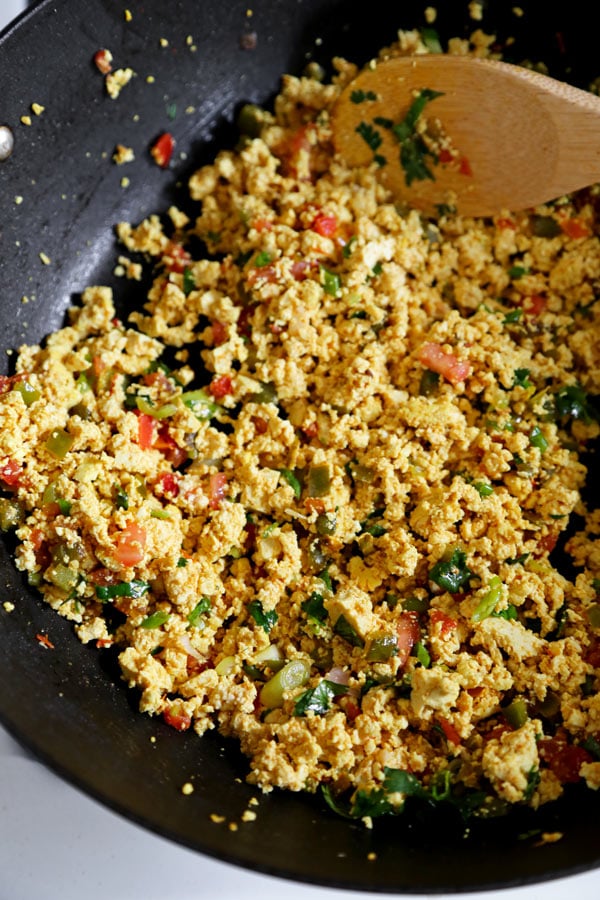 How to press tofu
Since tofu is packed in water, you'll want to get rid of some of that liquid before cooking. There are a couple of easy ways to drain tofu that won't slow down your cooking flow.
Note: these methods are for firm and extra-firm tofu. (You can drain silken [soft] tofu simply by placing it on a plate or cutting board for 10 minutes. No pressure required.)
No matter which method you use, though, it isn't necessary to squeeze every last drop of moisture from your bean curd. You just want to make sure it's isn't sopping wet when you send it to your saute pan.
How long does tofu scramble last?
You can store any leftovers you have of this Mexican style tofu scramble in the fridge for 2-3 days.
While there's nothing that will go bad on you super quickly, I've found the texture can get slightly mealy as you approach day 5 in the fridge.
However, if you're big into meal prep, you can totally make a batch of this breakfast scramble – and then portion into single servings and keep in the freezer until you're ready thaw, heat-up and have brunch 🙂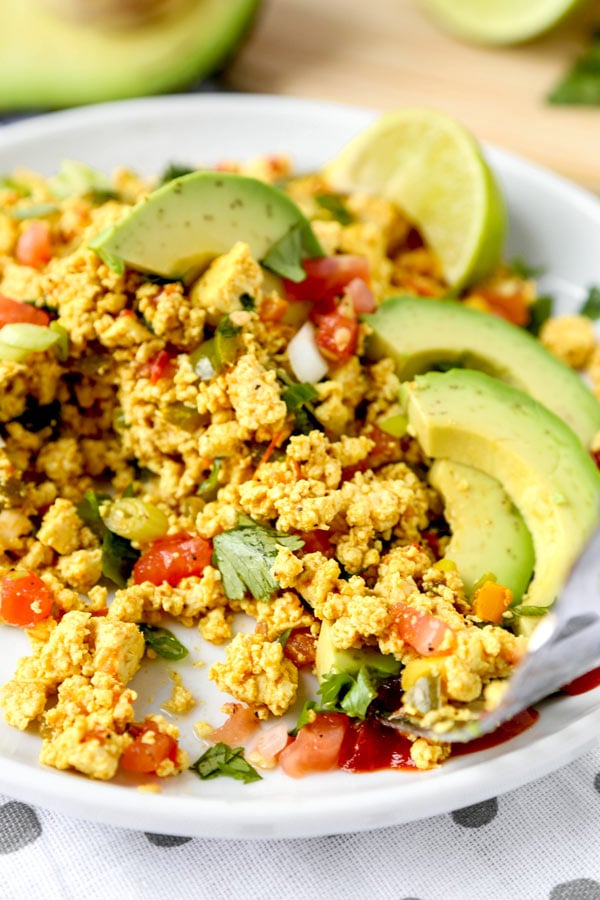 A vegan breakfast of champions
With the garden fresh flavor of salsa fresca, the brightness of cilantro, creamy avocado and a hit of fire from sriracha, this is one vegan breakfast recipe you might be forgiven for confusing with a hearty plate of huevos rancheros.
And, like I said, it's firmly in the steady rotation at my place.
I love it when indulgent flavors and healthy food meet in the same recipe!
What about you… What's in your brunch repertoire these days? I'd love to hear about your brunch favorites in the comments section!
Other simple, delicious tofu recipes:
Plus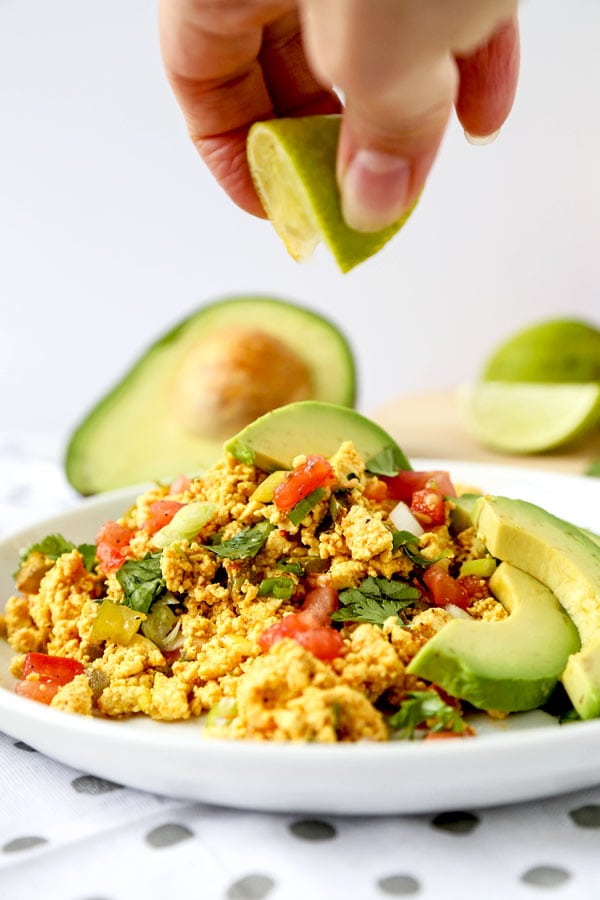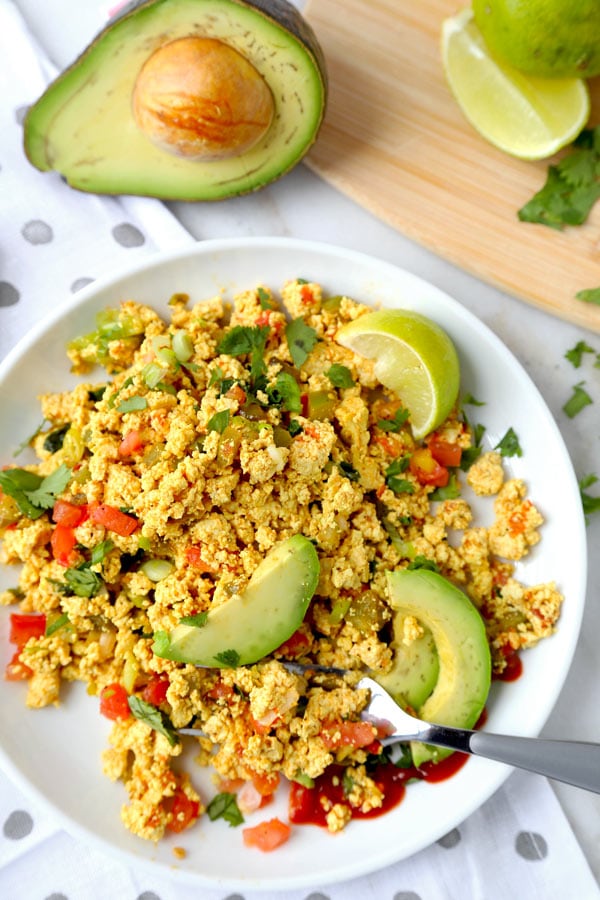 Did you like this Mexican Style Tofu Scramble Recipe? Are there changes you made that you would like to share? Share your tips and recommendations in the comments section below!
Print
Tofu Scramble (Mexican Style)
This Mexican Style Tofu Scramble Recipe could easily pass for a hearty plate of Huevos Rancheros. Vegan + ready in 25 minutes from start to finish!
Author: Caroline Phelps
Prep Time:

10 Minutes

Cook Time:

15 Minutes

Total Time:

25 minutes

Yield: Serves

2

people

1

x
Category:

Vegan

Cuisine:

Mexican
12

-oz extra-firm tofu

1 tablespoon

vegetable oil

1/2

green bell pepper, finely chopped

1/2 cup

salsa (mild or spicy), drained

1/4 teaspoon

cumin powder

1/4 teaspoon

turmeric powder

1 tablespoon

sriracha sauce

2 tablespoons

cilantro, finely chopped

3

scallions, finely chopped

1/2 teaspoon

kosher salt

1

avocado (optional)

Lime wedges (optional)
Instructions
Wrap tofu in paper towel and gently press to remove excess water. Let sit on a plate for 10 minutes.

In a large pan over medium high heat, add vegetable oil and green bell peppers and cook for 2-3 minutes, until bell pepper has begun to soften. Add salsa and cook for 1 minutes.

Unwrap the tofu and add it to the pan. Break up the tofu using a wooden spoon, spatula or potato masher (that's the easiest way!), until you get the desired scrambled size. Cook for 2 minutes.

Add cumin powder, turmeric powder and stir to coat the scramble mixture.

Add sriracha sauce and stir to coat the mixture evenly. Turn the heat off, add cilantro and scallions, season with salt and pepper and stir well.

Transfer the tofu scramble to a plate and top with slices of avocado and limes wedges on the side. Serve.
Notes
Leftovers of this Mexican Style Tofu Scramble will keep in the fridge for 2-3 days.
Nutrition
Serving Size:
Calories:

239

Sugar:

4.9 g

Sodium:

1140.4 mg

Fat:

15.2 g

Saturated Fat:

2.8 g

Carbohydrates:

10.2 g

Fiber:

2.2 g

Protein:

19.7 g

Cholesterol:

3.5 mg
Keywords: vegan, recipe, meatless, vegetarian, plant based, breakfast, tofu, plant based, healthy
Recipe Card powered by