Once you make this mapo tofu at home you'll never order it again! Mushrooms make this vegan mapo tofu recipe tastier and healthier than the ground meat version. Plus, they crank the level of umami up to 11!
The Ultimate Vegan Mapo Tofu (麻婆豆腐) Recipe
You're probably thinking "what the heck? Isn't mapo tofu made with ground meat?", to which I will subliminally reply "yes, you are right about that."
What you may find surprising though is that the vegetarian mapo tofu version has slowly been gaining popularity. I've seen it pop up on lots of menus in NYC and it's easy to see why – it's seriously delicious!
I'm a mapo tofu super fan – I've had it in Taiwan, China, Singapore, Japan and make it at home regularly.
It's also my go to dish whenever we order dinner from our favorite Szechuan spot or eat out in Chinatown. There is something seriously addictive about eating silky tofu cubes coated in a fiery red hot sauce that's begging to be poured on virgin white rice. It's like catnip for spicy food lovers!
I've made it with and without meat and ordered it both ways as well and guess what – vegan mapo tofu wins on every level! Now before you shake your head or roll your eyes at me, let me tell you exactly why I prefer my mapo meatless.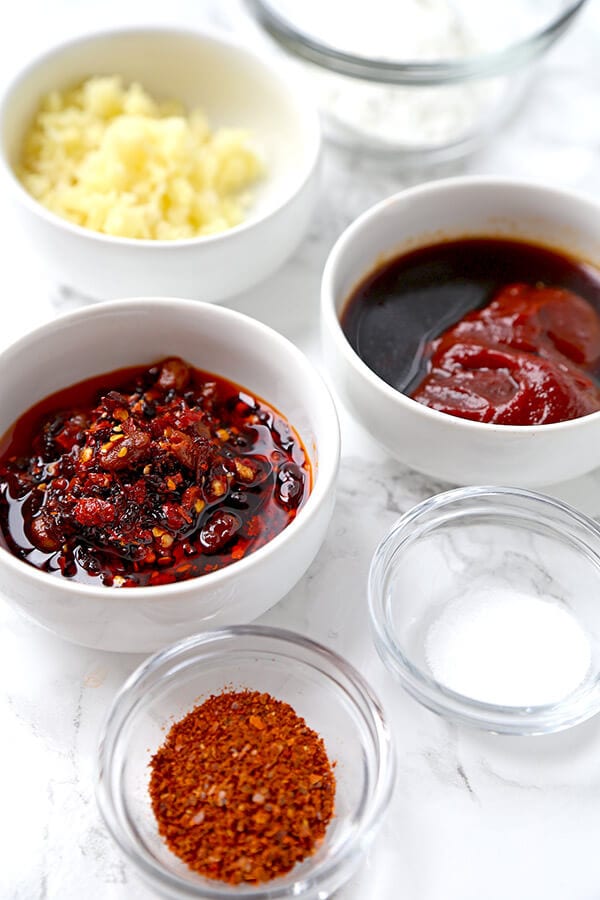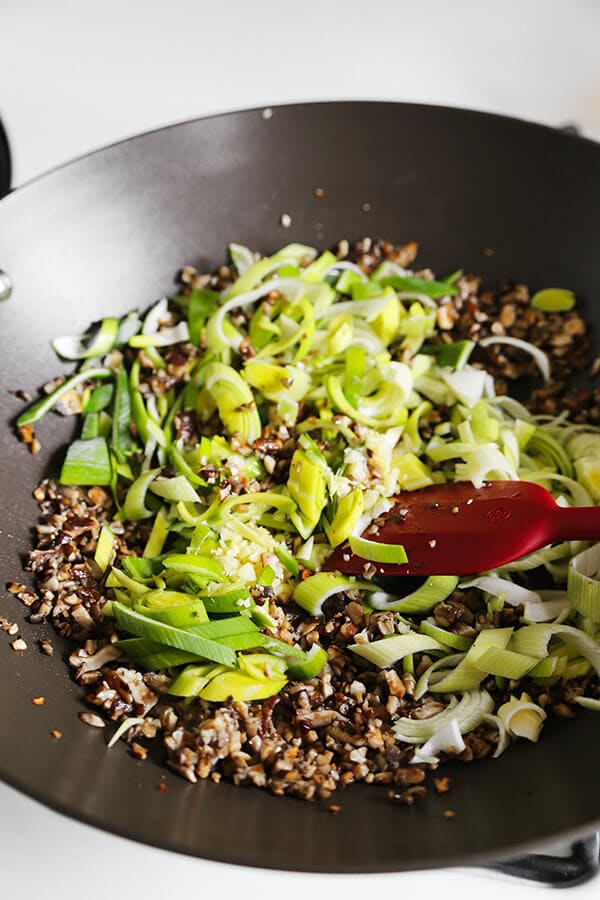 First, let's talk about the texture of vegan vs regular mapo tofu. Ground meat can sometimes be very oily and contain crunchy bits of hard fat or bone that can ruin the experience of a good meal.
Plus, I'm on the fence about ground meat in general since it can be full of bacteria that can cause severe illnesses. The vegan version on the other hand uses mushrooms, lots of yummy, vitamin packed mushrooms that are finely chopped and cooked until tender.
Not only is the vegan version healthier and lower in saturated fat, it's also more pleasurable on a textural level.
Both versions contain leeks, garlic and ginger but herein lies the biggest difference; the meat version uses water or chicken broth while vegan mapo tofu uses mushroom broth. What this means is that the vegan sauce has twice the umami power plus a layer of earthiness that its meaty cousin doesn't have.
The result is a mapo tofu sauce that's more intense in flavor and much less oily. It's gentler to the waistline and so tasty you won't believe it's made only with vegetables!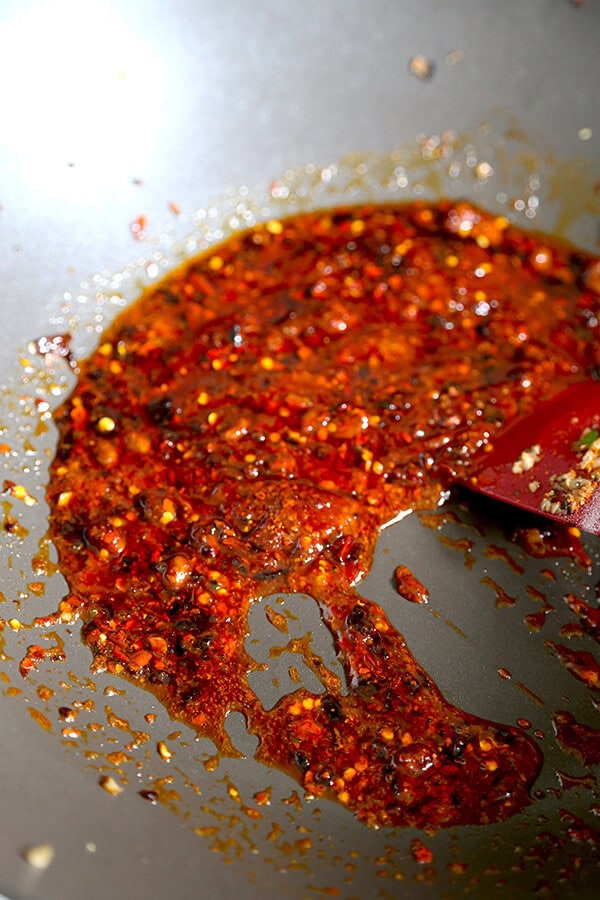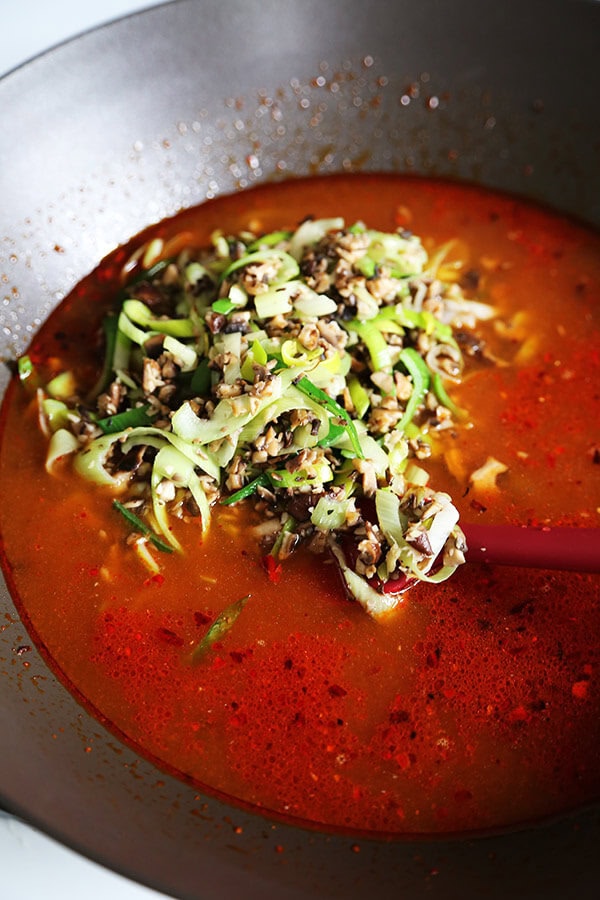 I adapted this recipe from the Power Vegetables cookbook by Lucky Peach. The ingredients I'm using are almost the same except for the sauce.
I found their version to be a little bland so I added a couple of ingredients to bump up the taste. The Lucky Peach version also uses lots of Szechuan peppercorns, an ingredient I've omitted since I don't like the numbing effect they have on my tongue.
However, I strongly suggest you add them to your dish if you have never tried Szechuan peppercorns before.
Everyone should experience at least once in their lifetime the mind blowing why-does-my-water-tastes-like-seltzer / I-can't-feel-my-lips effects of Szechuan peppercorns. It's so weird it's a must try for foodies!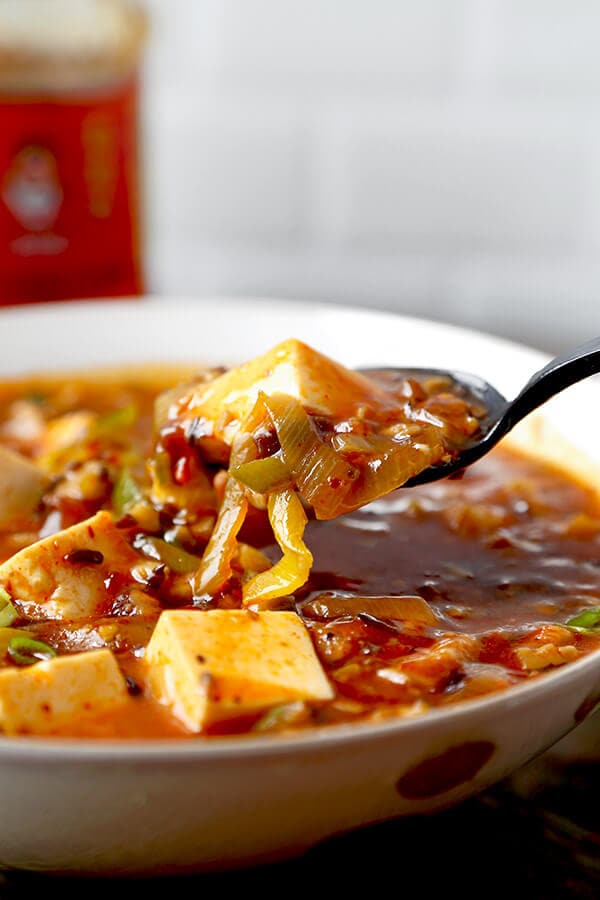 Making Vegan Mapo Tofu Ahead Of Time
This is how I prep for this dish whenever I make it: about an hour before I start cooking, I soak the dried shiitake mushrooms (since it takes them about 30 minutes to rehydrate), chop all my veggies and have the sauces and spices measured and ready to add to the wok.
I will also make some white rice in the rice cooker so everything is ready to be serve at the same time.
Can you make the whole dish ahead of time?
Unfortunately no.
The reason is that the gooey texture won't hold for very long, an hour at the very most I would say. It's best to make it right before serving when it's hot, thick and rich in color. If you have leftovers, you can eat it the next day but it won't be as delicious because the mapo tofu will have lost its gooeyness.
This vegan mapo tofu recipe is one of my top recipes. I'm so proud of this dish and look forward to making it (I drool from just thinking about it) every single time. This is a sure way to convert a tofu hater into a lover!
More delicious tofu recipes:
Did you like this Vegan Mapo Tofu Recipe? Are there changes you made that you would like to share?
Print
The Best Vegan Mapo Tofu
One of my favorite recipes of all time, this vegan mapo tofu is packed with savory and pungent flavors that are traditional to Szechuan cuisine. So delicious that I always go back for seconds!
Author: Caroline Phelps
Prep Time:

15 minutes

Cook Time:

15 minutes

Total Time:

60 minutes

Yield:

6

people

1

x
Category:

Vegan

Method:

Stove top

Cuisine:

Chinese
1

ounce

dried shiitake mushrooms (soaked in 3 1/2 cup water for at least 30 minutes)

7

ounces

button mushrooms (finely chopped)

2 tablespoons

vegetable oil

1 tablespoon

garlic (peeled and minced)

1 tablespoon

ginger (peeled and minced)

1

large leek (sliced in half lengthwise and thinly sliced on the bias)

1

pound

silken tofu (drained and sliced into 1-inch cubes)

1 tablespoon

Szechuan peppercorns (optional)
For the sauce:
2 tablespoons

gochujang

2 tablespoons

soy sauce

3 tablespoons

spicy chili crisp

1 teaspoon

kosher salt

1 teaspoon

gochugaru

2 1/2 tablespoons

cornstarch mixed with 2 1/2 tablespoons water
Instructions
Take shiitake mushrooms out of the water and set the water aside. You will need it for the sauce. Squeeze the dried shiitake mushrooms to remove excess water and finely chop them. Add them to the bowl with the button mushrooms.
In a wok or large pan over medium high heat, add oil and mushrooms. Stir and cook for 8 minutes.
Add garlic, ginger and leeks, stir and cook for 4 minutes. Transfer vegetables to a bowl and set aside.
Add gochujang, soy sauce, spicy chili crisp, salt and gochugaru to the pan and stir until the ingredients are mixed and heated through (about 1 minute).
Return vegetables to the pan and add mushroom water. Stir well and bring to a boil. Lower the heat to a simmer.
Give the cornstarch mixture a quick stir and add to the sauce while stirring.
Add tofu, Szechuan peppercorns and stir well to coat the cubes. Cook for 1 minute and serve with white rice.
Notes
This mapo tofu is best eaten the day of but you can keep it refrigerated for up to 2 days. The texture won't be gooey anymore but the flavors will still be delicious.
Nutrition
Serving Size:
Calories:

159

Sugar:

3.9 g

Sodium:

758 mg

Fat:

9.5 g

Saturated Fat:

1.5 g

Carbohydrates:

13.4 g

Fiber:

1.3 g

Protein:

5.6 g

Cholesterol:

2.3 mg
Keywords: recipe, vegetarian, meatless, plant based, Szechuan
Recipe Card powered by