This savory Shoyu Ramen Recipe is super easy to whip up at home and is loaded with the deeply nuanced flavor you'd expect from your favorite ramen shop. By the end of this recipe, you'll learn everything you need to know to make a good bowl of ramen and satisfy your ramen craving!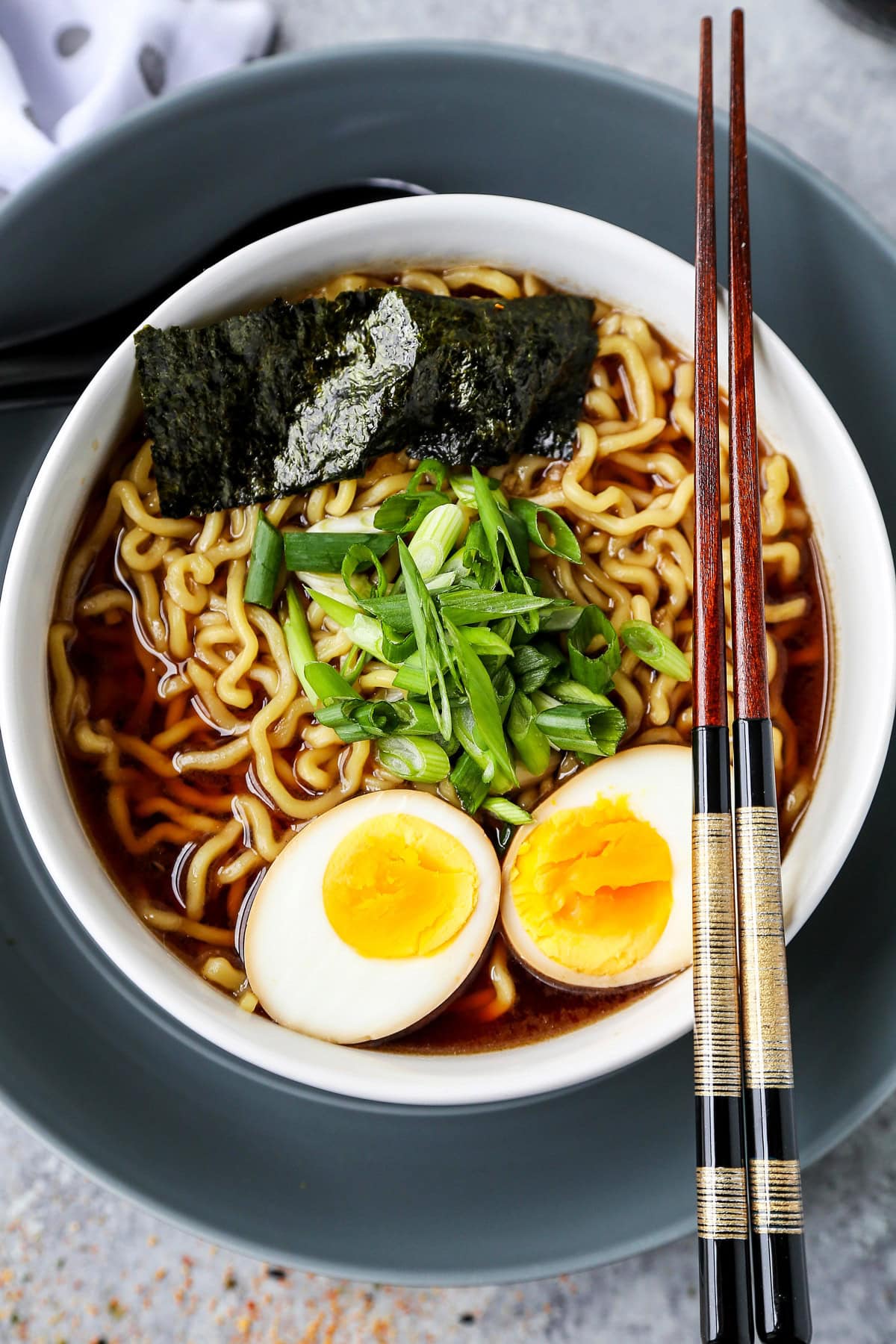 What is Shoyu Ramen?
Shōyu (醤油) is Japanese for soy sauce.
And, while there are intentional variances in flavor and consistency from brand to brand, soy sauce is a fermented brew of roasted wheat and soybeans.
Ramen (ラメーン) is one form or another of noodles served in a soupy broth. But you knew that already, right 😉
Therefore, shoyu ramen is a noodle soup with a savory broth that utilizes soy sauce as its flavor blueprint.
Pretty simple, huh?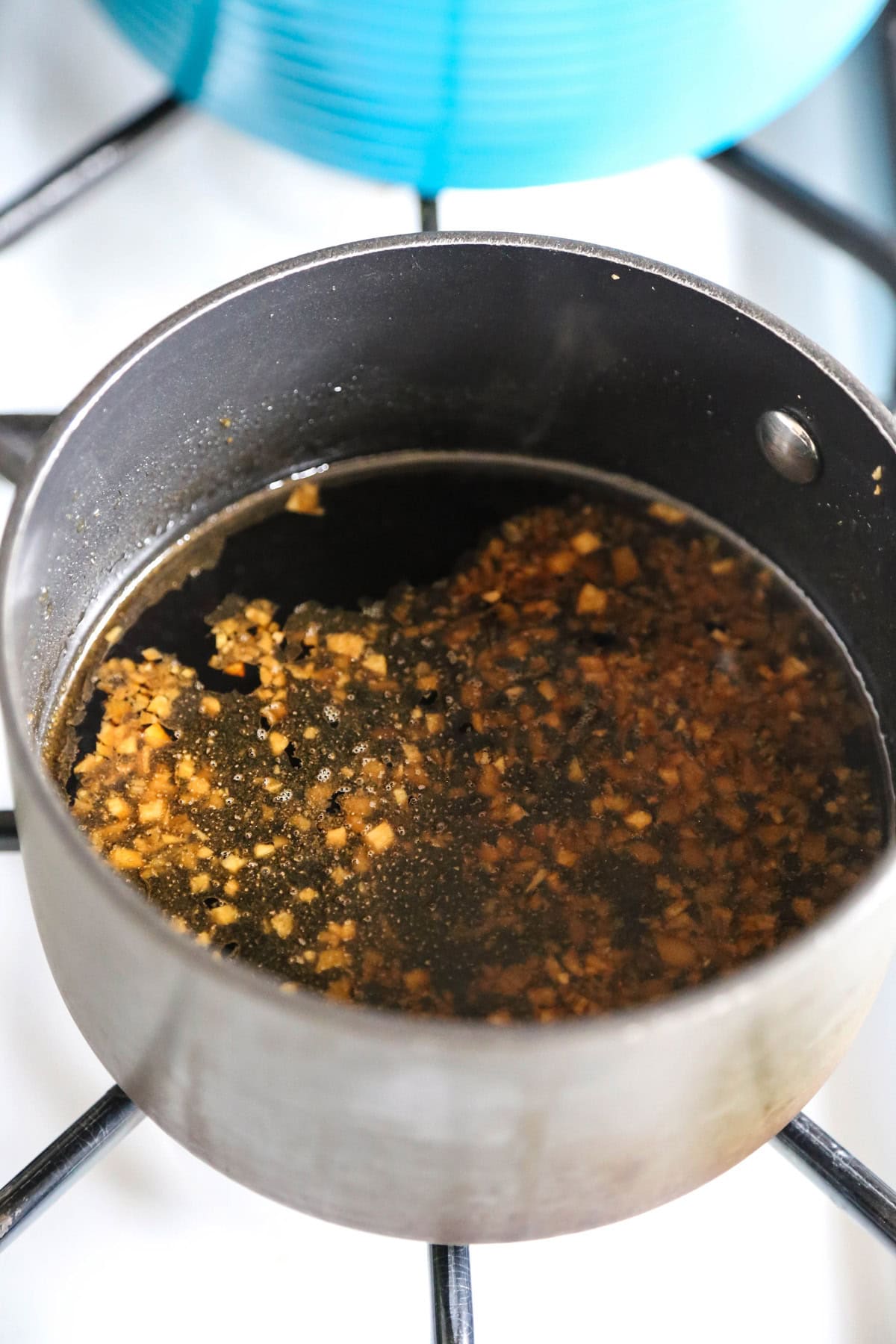 Shoyu Ramen Ingredients:
Fresh ramen noodles: For this recipe we want to use fresh ramen noodles in particular because it's healthier for you!
Sesame oil: Sesame oil is delightfully aromatic with a nutty base. This makes it especially perfect and delicious to pair with your ramen.
Garlic: Garlic cloves are a sure way to give your ramen broth an incredible taste and smell.
Ginger: Adding fresh ginger with the garlic together will create such an aroma, everyone on the block will want to know what you're cooking up!
Soy sauce: Soy sauce, per usual, adds an abundance of unique flavor to your hot broth.
Cooking sake: Cooking sake is an alcoholic seasoning containing salt, vinegar, and other umami ingredients. It will also play a large part in your overall dish taste.
Dashi: Dashi is made from cold-brewing kombu and helps form the base for many beloved Japanese broths.
Mirin: Mirin is a rice wine. The mirin and dashi will bring a dry sweetness and saline notes to your ramen broth.
Ramen water: This is an ingredient you don't have to buy since you'll be the one making it along the way. I'll explain more about why I love using some of your ramen water as the base later. This will be the secret weapon to making your homemade broth uniquely yours.
Ramen egg (optional): This is a great option for your shoyu ramen toppings but entirely optional. We'll get more into this later too!
Menma: Menma is pickled bamboo used as a topping.
Dry nori sheets: Dry nori sheets, also known as dry seaweed sheets, have a very distinctive flavor that will make for a delicious topping to your completed dish. Using a sheet of nori will no doubt make your recipe stand out.
Chopped scallion: Green onions are a classic topping for many dishes, giving it not only flavor, but adding color to your dish that will make it even more visually appealing. Cut into smaller pieces and spread them around as desired!
Ground white pepper: If you're not familiar white pepper is black pepper's younger brother. It's not as strong as black pepper and known to have a more earthy taste.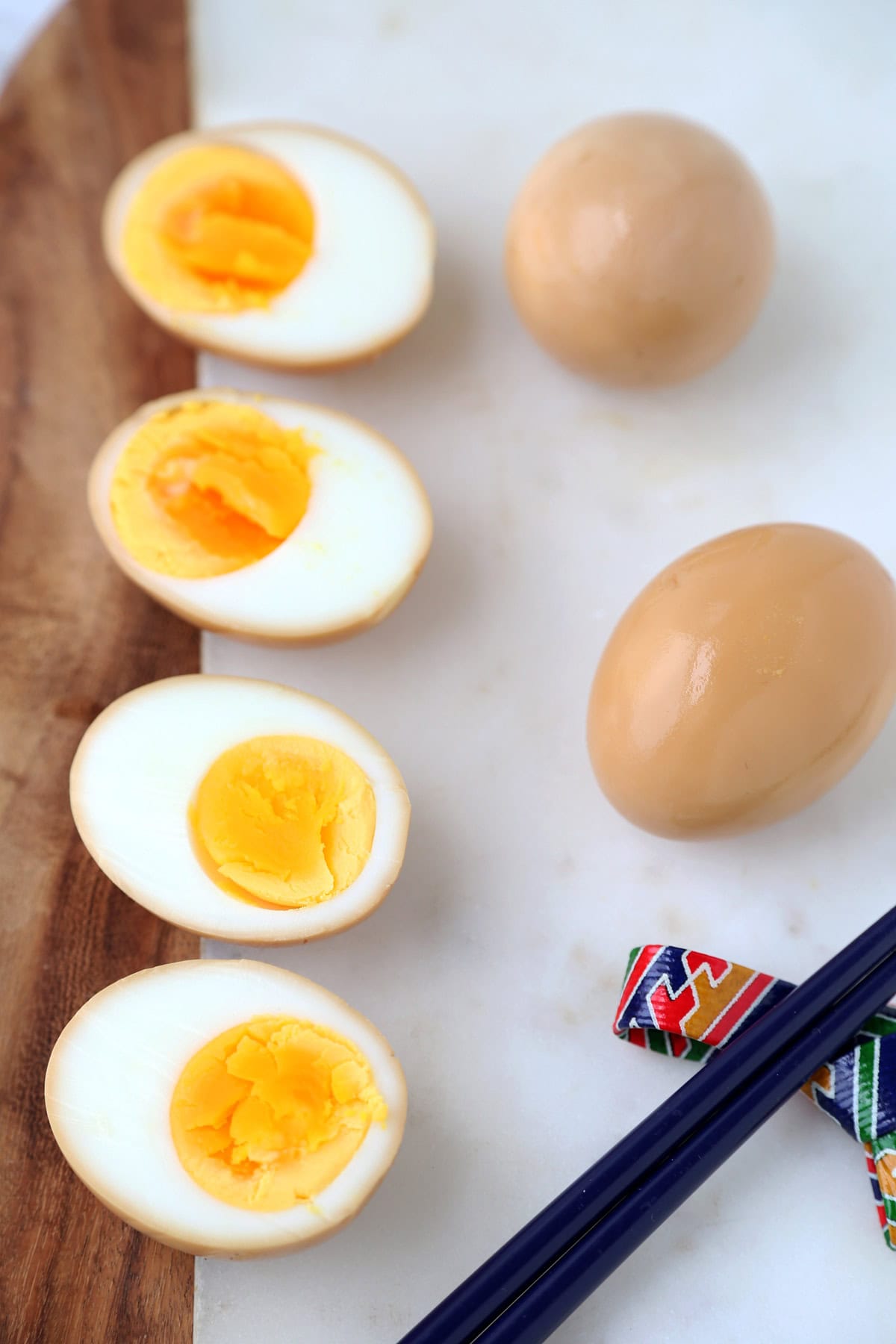 How to Make Shoyu Ramen
Gather all of your kitchen tools and ingredients.
Next, add my broth flavoring elements: soy sauce, sake, dashi, etc. Once it's boiling, lower the heat, cover and simmer for about 15 minutes or so.
In a separate pot, boil your noodles according to the instructions on the package—but make sure to reserve a bit of your noodle water. Don't throw all of it out! We're going to add a cup of the noodle water to our shoyu soup base. Why? The noodle water is going to cut our concentrated soup base down to a perfect strength. Added bonus, it's already piping hot and carrying some of the essence of the alkaline ramen noodles we just cooked.
Now, if you like your noodles on the al dente side, pull them off the heat a minute before you think they'll be perfectly cooked. Much like spaghetti, they'll keep cooking a bit after being taken out of the boiling water. Plus, we're putting them back into hot soup before serving.
Now, divide your noodles into two bowls, add your soup and toppings and slurp away on your delicious homemade shoyu ramen!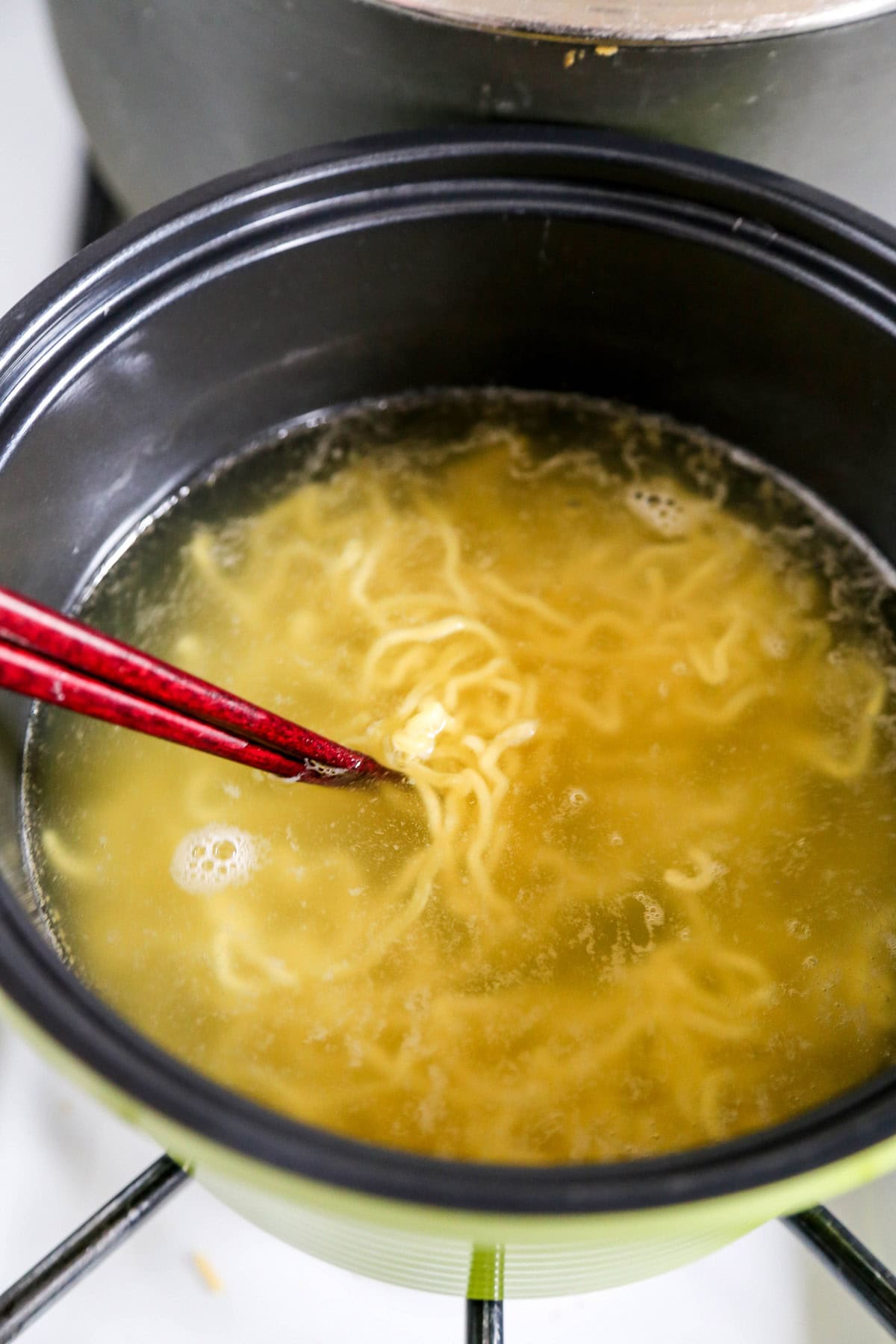 Ramen Noodle

Types

Ramen noodles will run the gamut from fresh to dried to instant. And while there's nothing better than eating freshly made—and professionally fussed over—noodles at a delicious hole-in-the wall ramen-ya (or ramen restaurant), fresh isn't always necessary.

In a professional setting the idea of the perfect noodle stems from which noodle will be the best vehicle to slurp up your soup with. The ubiquitous wavy, curvy noodles tend to be seen in miso ramen. Straight and thin noodles usually come in the more rustic, thick tonkotsu soups.

My take is slightly less professional and way less steeped in tradition. What are the perfect noodles to use in your own shoyu ramen at home? Whatever you like (and sometimes, whatever you've got handy).

Seriously, I LOVE fresh noodles. And, these days, some of the packaged dried ramen noodles are totally delicious. However, in a pinch, a par-fried, dehydrated block of noodles you salvage from a 25¢ packet of Top Ramen will do just fine. There's absolutely no shame in keeping things cheap and cheerful when it comes to making dinner and that logic applies to homemade ramen as well. Just keep in mind that buying your own noodles you find in the ramen packets at the supermarket or bodega are usually loaded with fat. Fresh and dried packaged ramen is just pasta—and is, therefore, much better for you.

I'm obviously not a traditionalist—but I do love ramen. We're making our soup from scratch for this shoyu ramen recipe but we're not reinventing the wheel.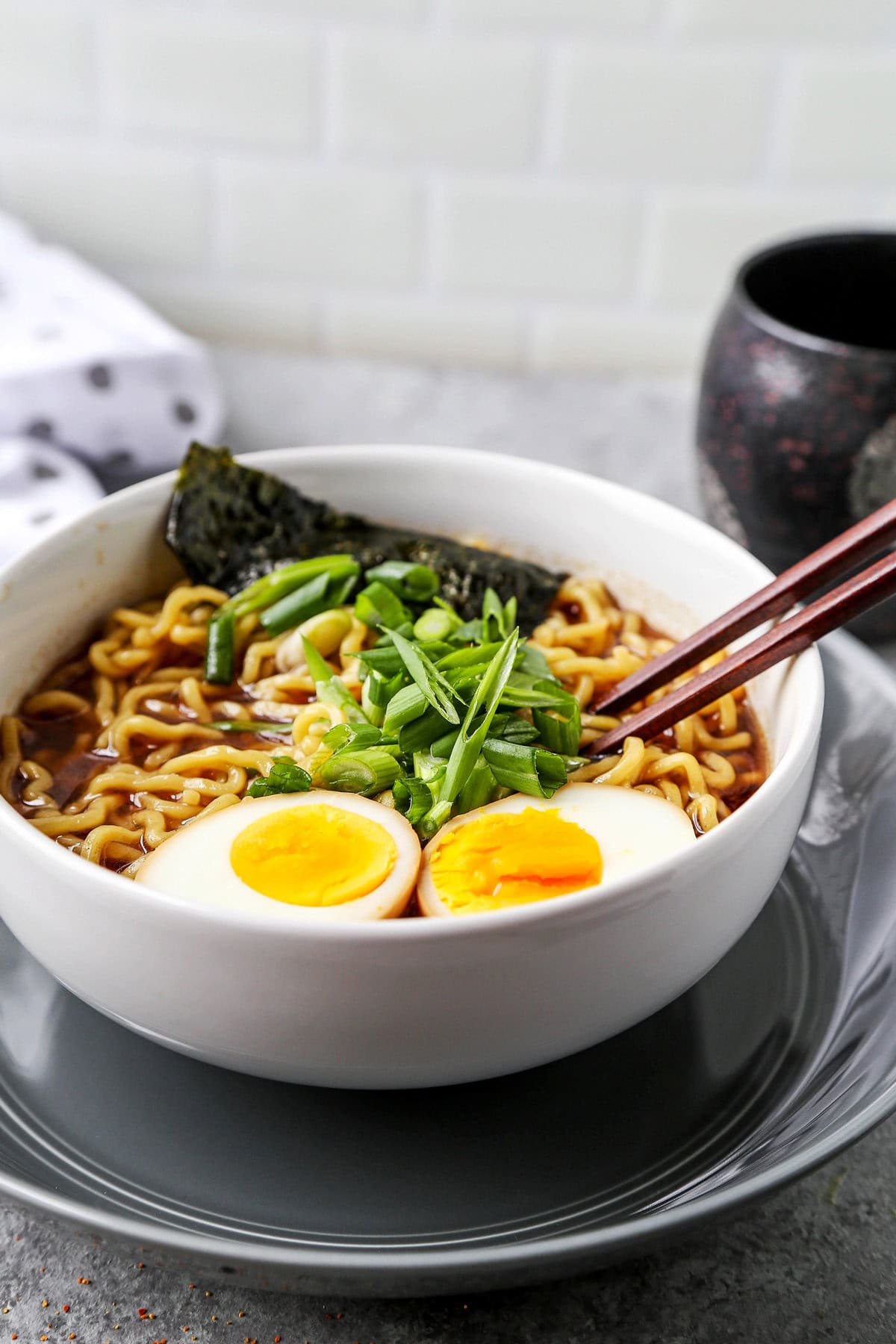 What Ramen Toppings Should I Use?
Toppings typically differ by region and can be anything from a simple affair of chopped scallions and nori (dried seaweed) or, well, the sky's the limit!
If you're inclined, some of the common additions to shoyu ramen are: chashu pork, togarashi, fish cakes, seafood, corn, bamboo shoots, garlic, ajitsuke tamago (ramen egg), stir fried veggies, bean sprouts, mushrooms, kimchi, yuzukosho, raw shredded cabbage …
Aside from being absolutely delicious, shoyu ramen is a fun food project, perfect for all skill levels, whether it's your first time or a pro chef!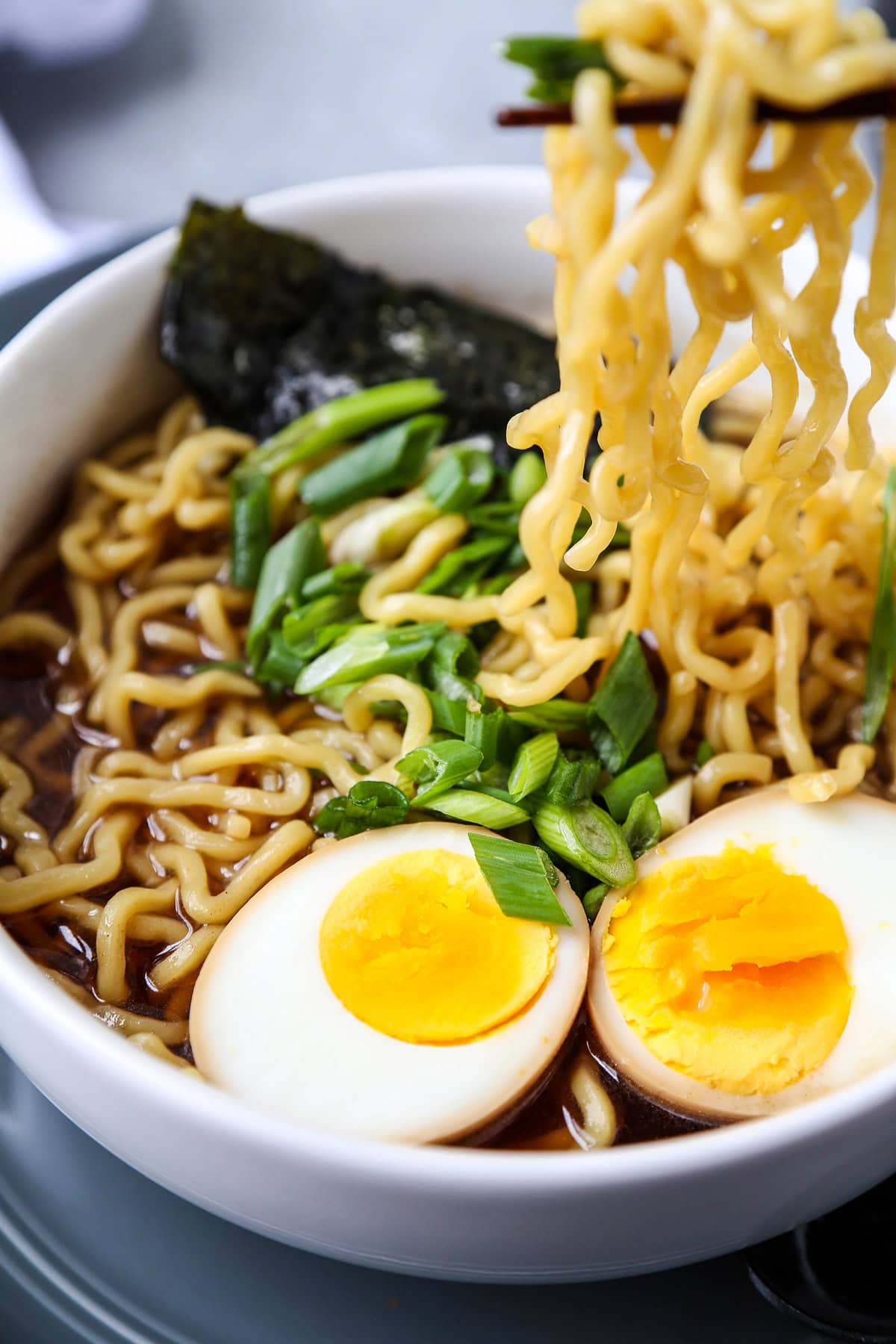 Ramen Egg
Of all the ramen toppings and accompaniments out there, my all time favorite has got to be the ramen egg—or ajitsuke tamago. These hard boiled eggs that just happen to have an impossibly soft, custardy yolk that elevates any ramen recipe to pro status.
After being boiled just right, these Japanese tamago are left to marinate in a savory brew for anywhere from two-hours to two-days. The idea is to have the soft yolk stand up to the savory soy sauce based ramen broth, but still melt in your mouth. It's a bit of delicious sorcery to be sure!
Be sure to check the recipe for these ramen eggs here. You can make a batch in advance and keep them in the fridge for any homemade ramen adventures that arise. When you cut them in half and add them to your steaming bowl of shoyu ramen, you'll be in seventh heaven!
As mentioned, there are different ways you can top off your ramen and make it your signature style, but I'd definitely suggest trying out these eggs!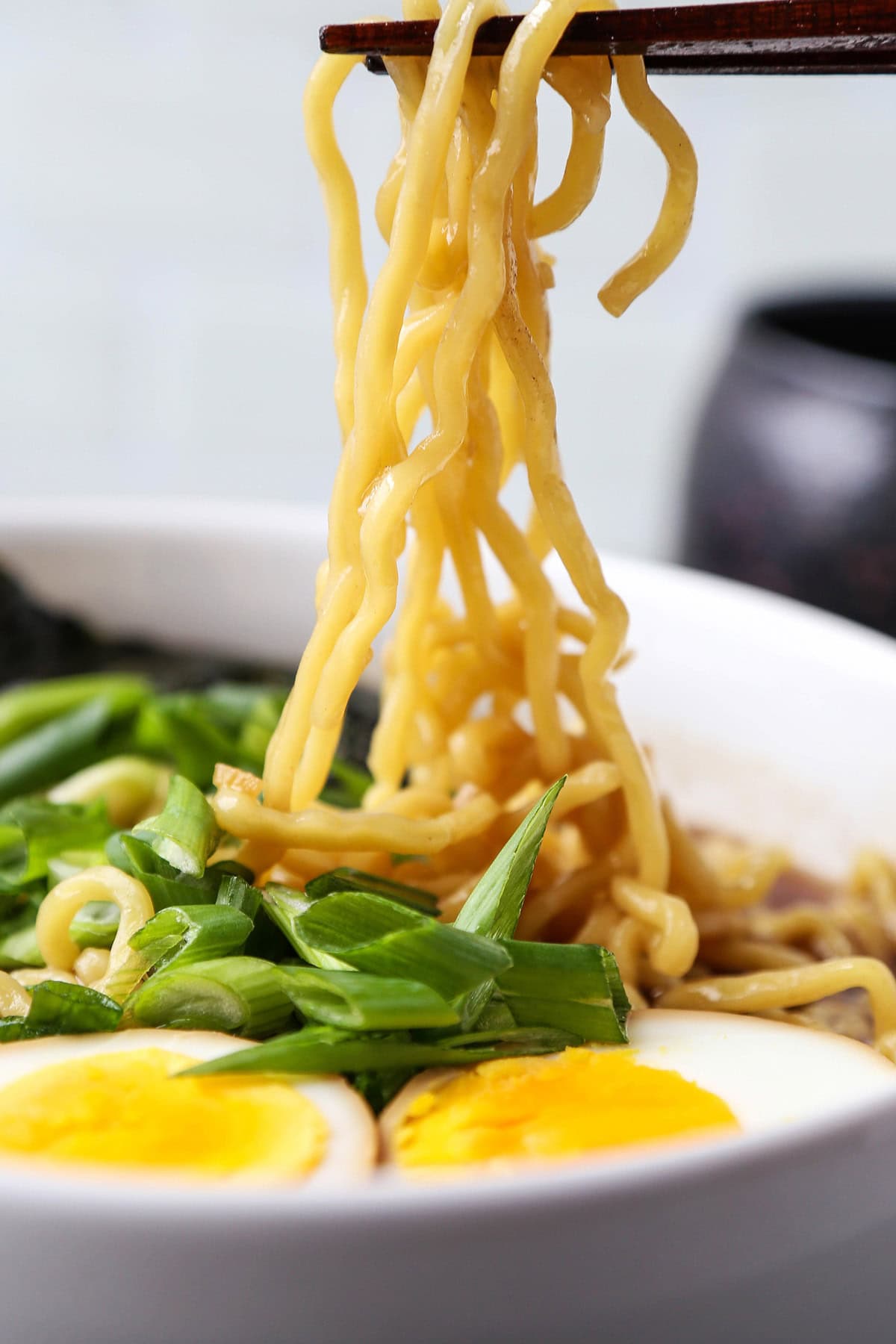 Where Did Ramen Originate?
OK—while the origins of ramen are distinctly Chinese, it's fair to say that it has been prepared, perfected, and served in Japan for long enough to count as a Japanese dish. One of the more interesting aspects of ramen in Japan is that different flavors and preparations hail from different regions of the country.
Now, there are a bazillion overlapping executions of ramen in play when eating out—but three primary styles.
Starting in the north of the country, Hokkaido serves as the birthplace of Sapporo ramen—or miso ramen.
Coming down to the middle of the country, you'll find Tokyo ramen, typically having a concentrated flavor essence based on soy sauce.
Then, in the south of the country (Kyushu—where my mother is from!) is the land of Hakata ramen—or tonkotsu ramen. This is the deeply flavored, super porky, milky white soup that is the result of boiling pork bones for days to leech the essence of the marrow into a luxurious concentration of epic flavor.
A note: Some might throw shio ramen (or salt flavored ramen) into that list and make it the fourth primary style.
While those three (or four!) main styles are the basis for most ramen, there are tons of ramen applications that pull from these different styles and introduce their own swagger into the mix.
Of course there are the myriad different types of ramen creations like: curry ramen, sutamina ramen, champon, tsukemen, a cold hiyashi chuka, the soupless abura soba, and, well, you get the idea.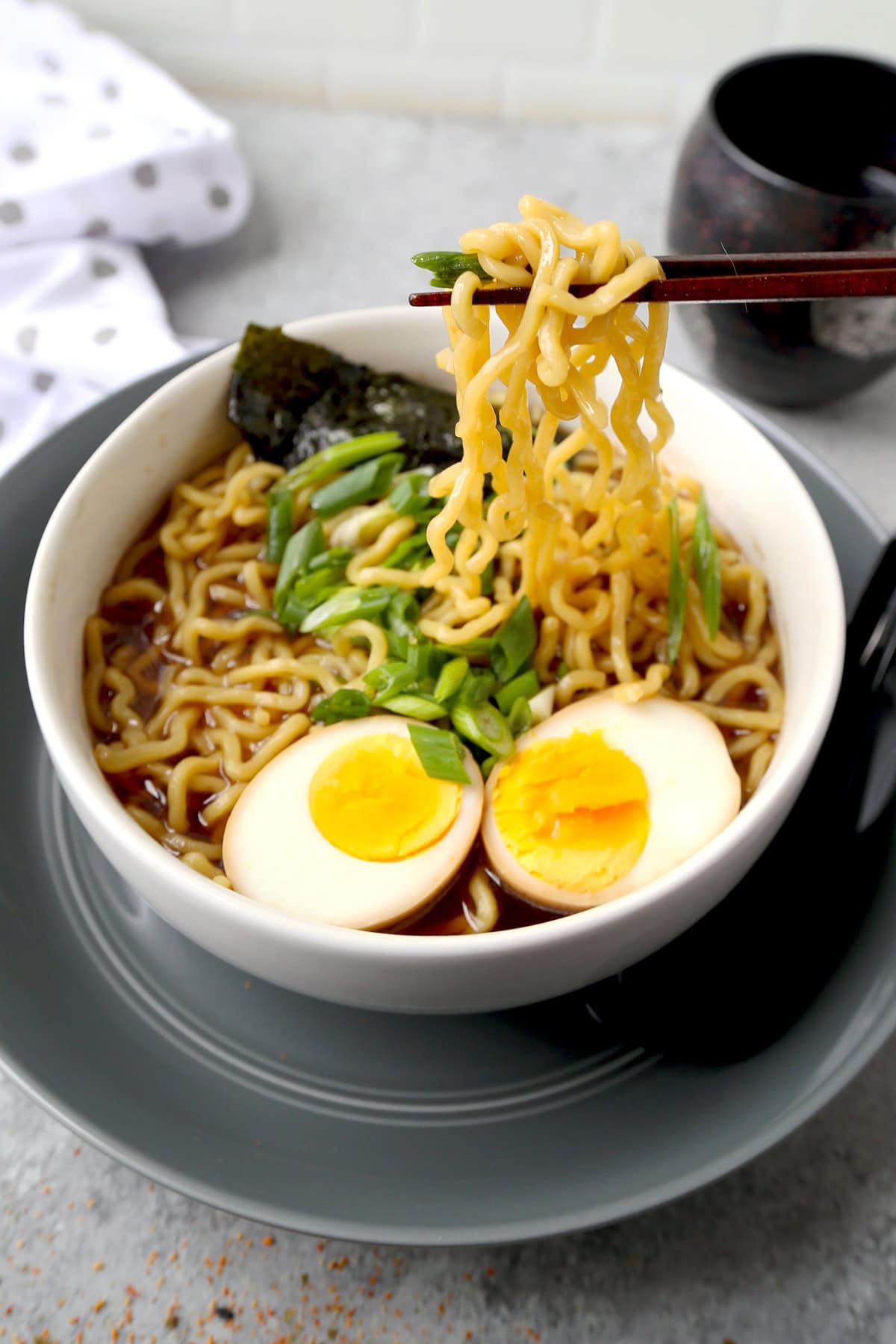 An Easy Ramen Broth Recipe
If I'm making ramen at home, you can bet your bottom dollar that it's going to be quick and easy. I leave the complex stuff like a hearty tonkotsu broth to the ramen kings at Ippudo.
So when I created this ramen recipe, I was surprised at how much flavor I was able to extract with just a few ingredients and in such a short amount of time!
In most restaurants, shoyu ramen broth gets some of the more nuanced flavor elements from using things like sake, mirin and dashi to deliver dry sweetness and more developed saline notes. So I decided to add those three ingredients to my broth along with a little garlic, ginger, and a dash of sesame oil for nuttiness. The result is a yummy light broth packed with umami and earthy flavors.
Other simple, delicious Japanese recipes:
Did you like this Shoyu Ramen Recipe? Are there changes you made that you would like to share? Share your tips and recommendations in the comments section below!
Print
Shoyu Ramen – 醤油ラメーン
25 minutes is all you need to make this soy sauce based, Japanese style shoyu ramen.
Author: Caroline Phelps
Prep Time:

5 minutes

Cook Time:

20 minutes

Total Time:

25 minutes

Yield:

2

people

1

x
Category:

Soup

Method:

Boiling

Cuisine:

Japanese

Diet:

Vegetarian
2

packages fresh ramen noodles
For the shoyu sauce:
1 tablespoon

sesame oil

1

clove garlic (minced)

1

1-inch piece ginger (peeled and minced)

1/4

cup

soy sauce

1 tablespoon

cooking sake

1

cup

dashi

2 1/2 tablespoons

mirin

1

cup

ramen water (the water the ramen noodles are cooking in)
Toppings:
2

ramen eggs (optional)
menma – pickled bamboo
dry nori sheets
chopped scallions
ground white pepper
Instructions
In a small pot over medium high heat, add sesame oil, garlic and ginger. Sauté for 2 minutes, or until fragrant.
Add the remaining ingredients for the soup – except ramen water – and bring to a boil. Lower the heat, cover and simmer on low for 15 minutes. Set aside.
Bring a medium pot of water to boil. Add ramen noodles to the boiling water and cook according to directions on the package. For fresh noodles, it shouldn't be more than 2-3 minutes.
Before draining the noodles, scoop 1 cup of ramen water and add it to the shoyu soup. Stir.
Drain the noodles and divide them among two bowls.
Pour soup into bowls and add desired toppings. Serve immediately.
Notes
You can make the broth ahead of time and store it in the fridge for up to 5 days.
Nutrition
Serving Size:

1 bowl

Calories:

397

Sugar:

9.1g

Sodium:

2532.4mg

Fat:

11.2g

Saturated Fat:

1.9g

Unsaturated Fat:

4.2g

Trans Fat:

0g

Carbohydrates:

54.8g

Fiber:

2.3g

Protein:

12.9g

Cholesterol:

49.3mg
Recipe Card powered by