French fries are already pretty much perfect. But you can easily level up your homemade French fry game with a dusting of Japanese furikake! I'll teach you how to make a batch of umami fries in no time. Plus an easy trick for getting rid of excess starch from your potatoes. Bonus: these crispy furikake fries are baked, not fried!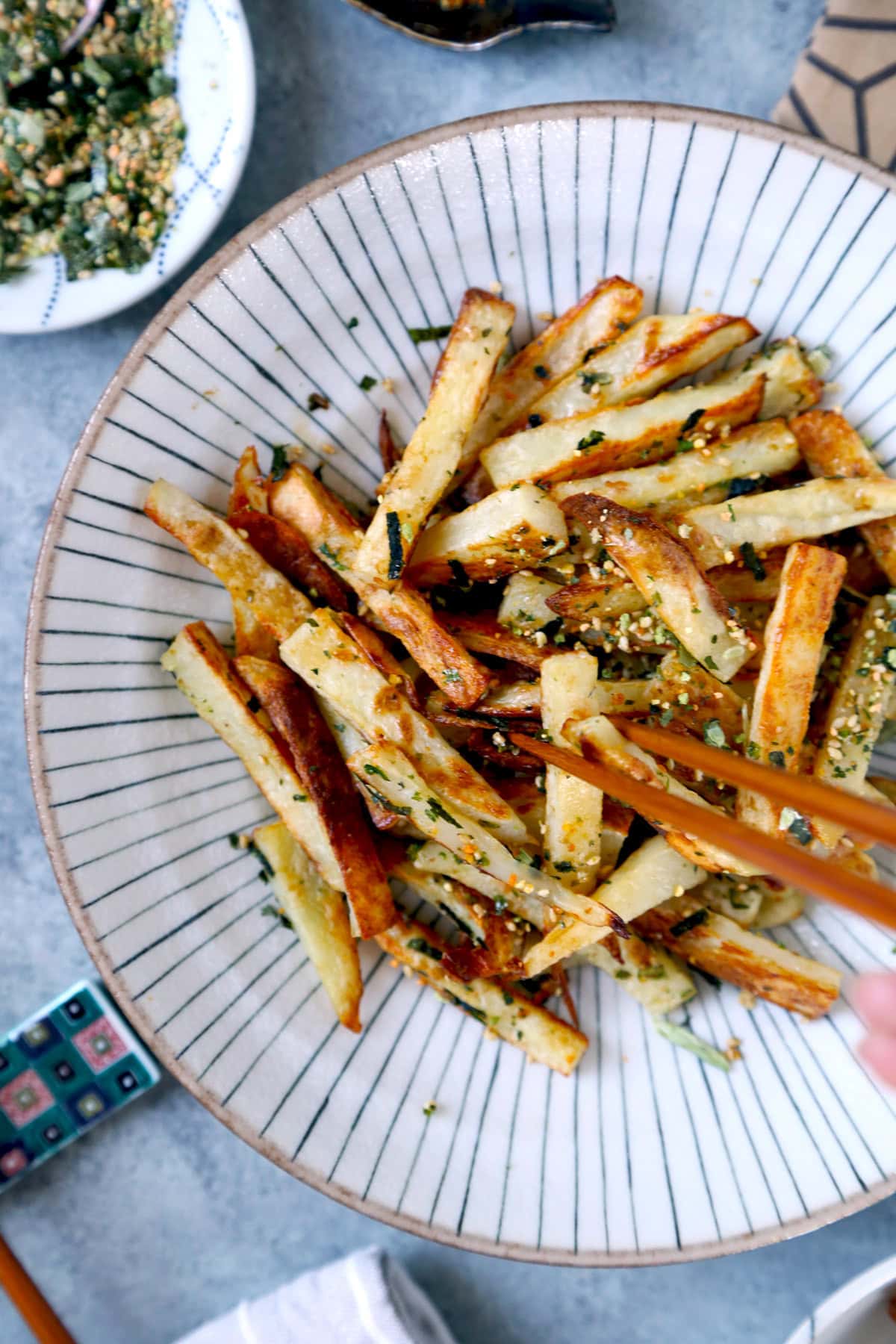 What are Furikake Fries?
Furikake fries are simply French fries tossed with Japanese furikake seasoning prior to serving. The flavor is savory, nutty, mildly sweet and umami. Actually, Ben calls these umami fries.
What is Furikake?
Furikake is a Japanese seasoning mix that usually contains ingredients like seaweed (nori), sesame seeds and bonito flakes – mixed with things like soy sauce, sugar, salt and sometimes togarashi (dried Japanese chili peppers). There are plenty of premade versions – or you can make your own homemade furikake.
While furikake is a common seasoning for cooked rice, it can also be used as a savory, briny and nutty addition to everything from salads, burgers, pasta and popcorn – to these furikake fries.
Why This Recipe Works
The potatoes are baked, not fried. A couple tablespoons of olive oil are all you need. Great for those of us watching our waistlines (and those of us that get scared by huge pots of boiling oil).
It's so easy to make at home. With a handful of ingredients you can transform an already perfect food (French fries) into something with an extraordinary Japanese flavor profile.
Fries are super versatile. Therefore you can use this general technique with different spice blends, different cooking styles – and even different potatoes. Like these oven baked za'atar fries for example. More on the variations in a sec.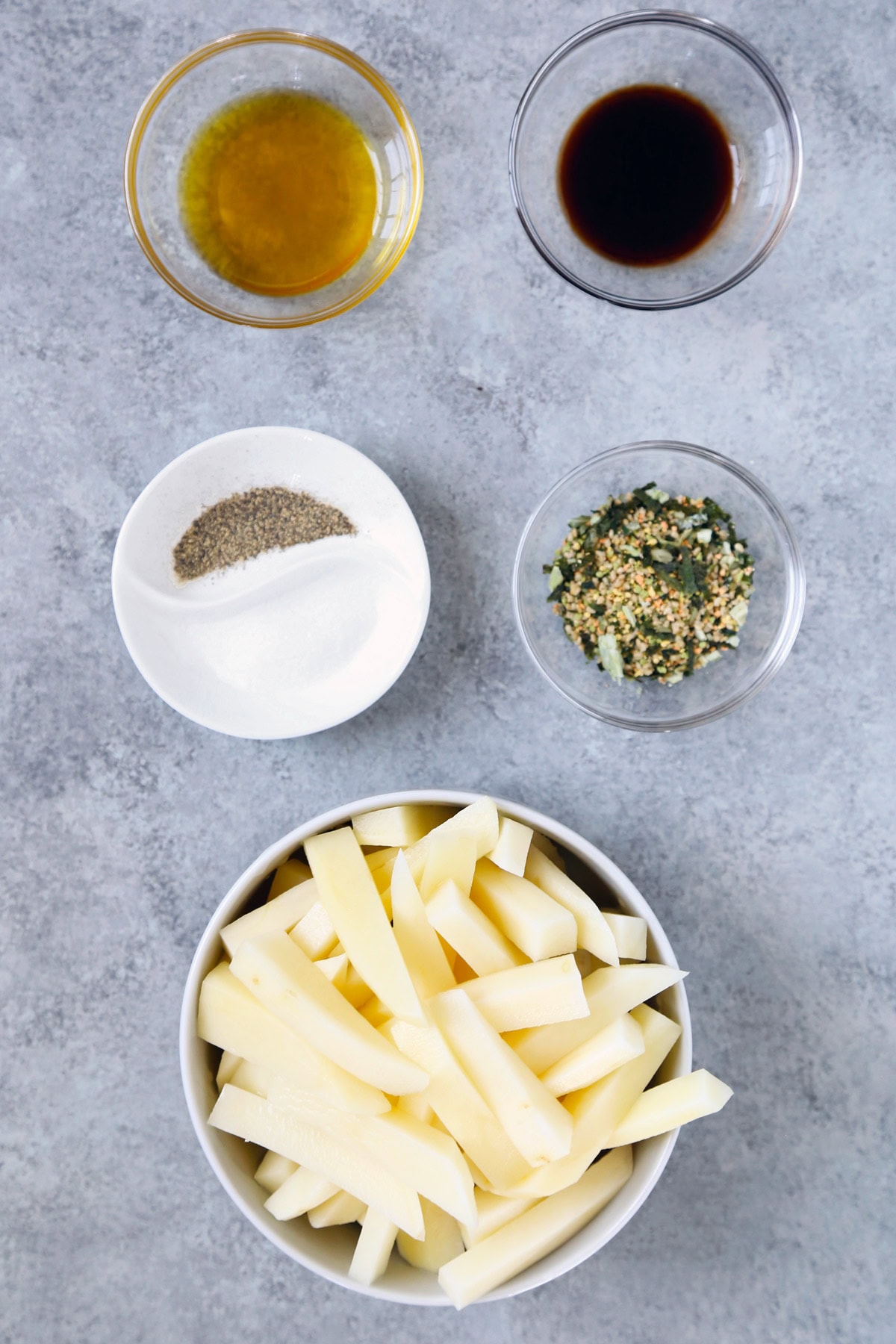 Furikake Fries Ingredients
Potatoes: You'll need two large potatoes for this recipe. I like using earthy russet potatoes (or Yukon Gold for a little buttery sweetness) – but feel free to use what you have handy in the pantry. Slice the peeled potatoes into sticks that are around the midway point between fast-food fries and steak fries for the best crispy exterior and fluffy interior.
Olive Oil: I'm using first press extra virgin olive oil. And you only need two tablespoons! One for cooking the potatoes in the oven. And one to help your furikake stick to the fries before serving.
Soy Sauce: A teaspoon of shoyu delivers another layer of savory umami flavor – and helps the furikake stick without resulting in soggy fries!
Furikake: This is the main flavor going onto the fries. It's glorious! Now, if you're keeping it easy in your kitchen, just pick up a furikake mix at an Asian grocery store. But I've also got an easy furikake recipe if you want to make your own. When making homemade furikake, the toughest ingredient to track down might be the bonito flakes – but you can grab katsuobushi on Amazon.
Salt and Pepper: You can use fresh cracked pepper if you'd like. But there's no need to get fancy. The stuff from the pepper shaker works just fine as well. I'd recommend using kosher salt if you have it handy. The larger salt crystals make it tougher to oversalt your fries. Flaky sea salt would be a good option too. If you go with table salt, use it sparingly – and taste as you go.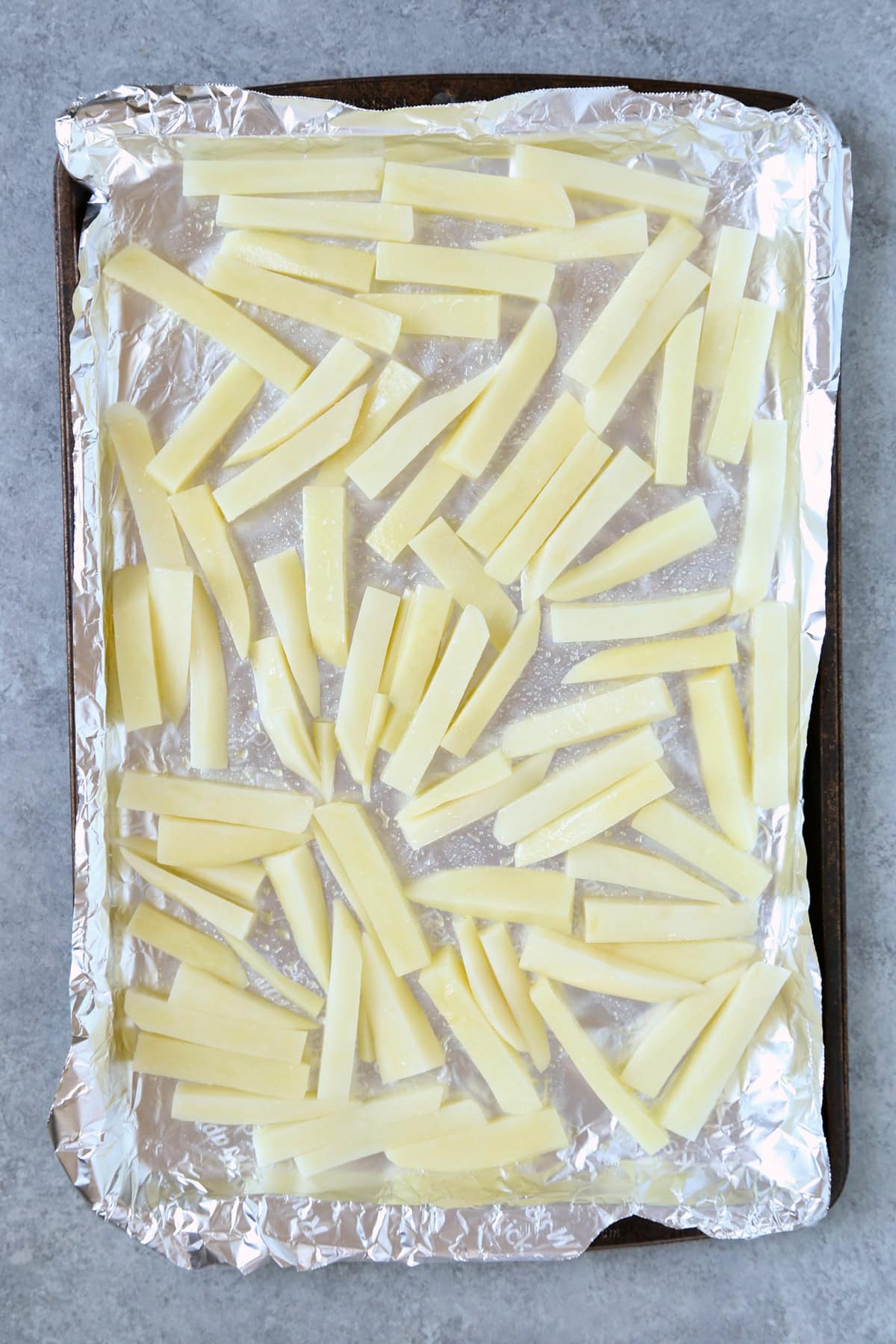 How to Make Baked Furikake Fries
Gather all of your cooking tools and ingredients – and preheat your oven to 425°F.
Cover a large sheet pan with parchment paper or non-stick foil and set it aside.
Next, peel your potatoes and slice them into 1/2 inch thick sticks. That's about the midway point between regular matchstick fries and steak fries.
Then place your sliced potatoes in a large bowl of water and allow them to soak for around 20 minutes. This step helps release some of the natural starch from your spuds.
After soaking, drain the potatoes and rinse well under cold running water for a few seconds. Drain thoroughly again and transfer to a bowl.
The final step of potato prep is to pat them dry with a paper towel or a clean kitchen towel – and then add 1 tablespoon of the olive oil. Gently toss the potatoes until they are evenly coated in the olive oil, then season with a bit of salt.
Next, place your potatoes on the baking sheet in a single layer.
Roast them in the oven for 20 minutes – then flip them over. Roast for an additional 10 minutes – or until golden brown.
Once cooked, take the potatoes out of the oven and return to the mixing bowl.
Finally, drizzle the cooked fries with the remaining tbsp of the olive oil, a tsp of soy sauce and about 1 tbsp of the furikake. Toss well – then sprinkle on another tablespoon of the furikake, toss again and serve immediately.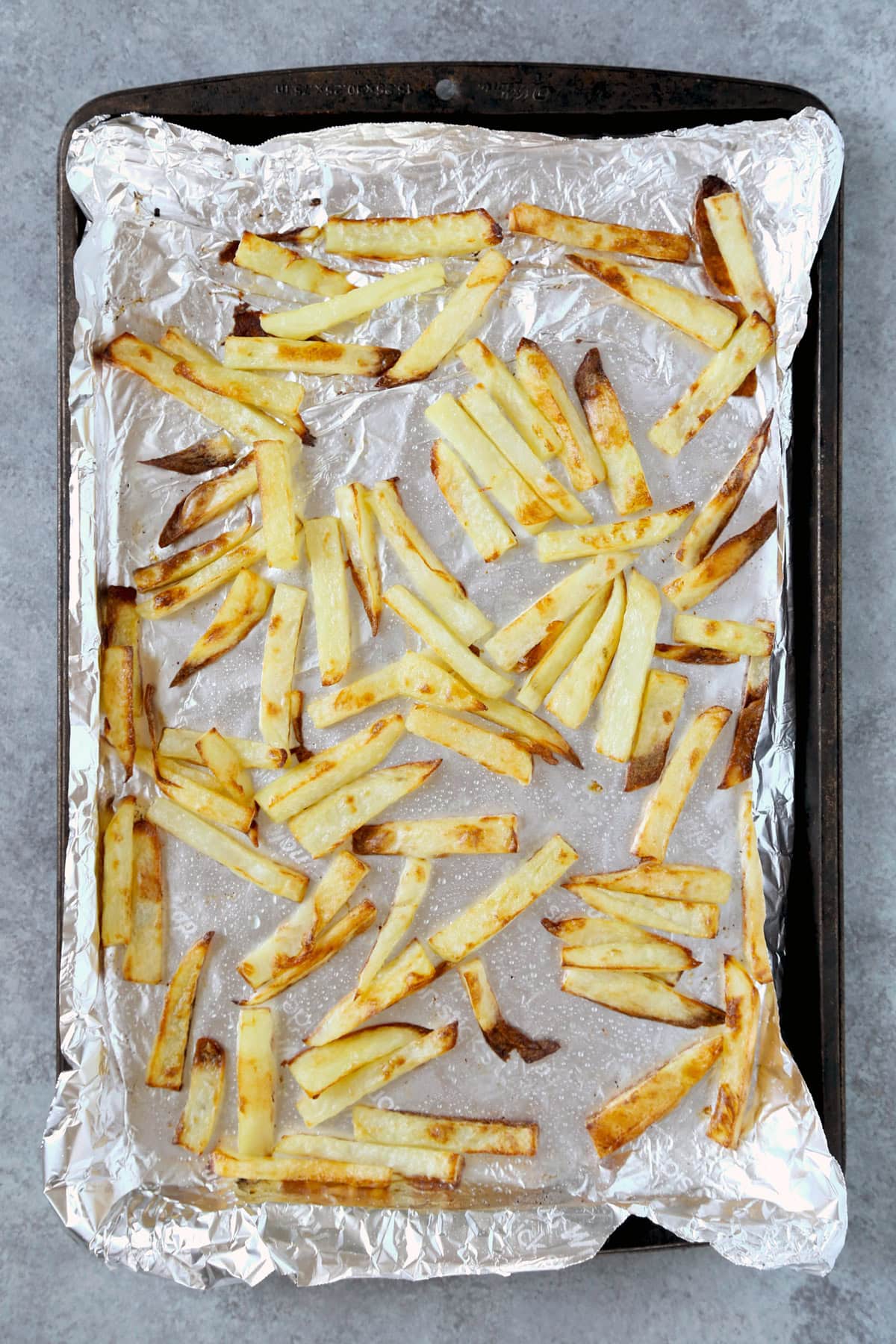 Variations and Serving
One of the best parts about this recipe is that you can easily change it up. Both in terms of flavor and the methods you use for cooking the potatoes in the first place.
You can easily make the French fries in an air fryer instead of the oven. Check out this easy recipe for the best air fryer French fries.
Or, if you have a deep fryer handy, the classic deep fried method obviously turns out some yummy fries. Just be careful of oil splatters!
Do you prefer sweet potatoes? Use them instead. Heck, I've even tried this recipe with a bag of frozen matchstick potatoes.
As for serving, I think they taste great on their own. But you can't go wrong with a bit of spicy mayo on the side: wasabi mayo, sriracha mayo or kimchi mayo are all great. Like it super spicy? Try adding chili flakes. And plain old ketchup is obviously a solid choice when it comes to fries!
What about you? What's your favorite condiment? Tell me about it in the comments!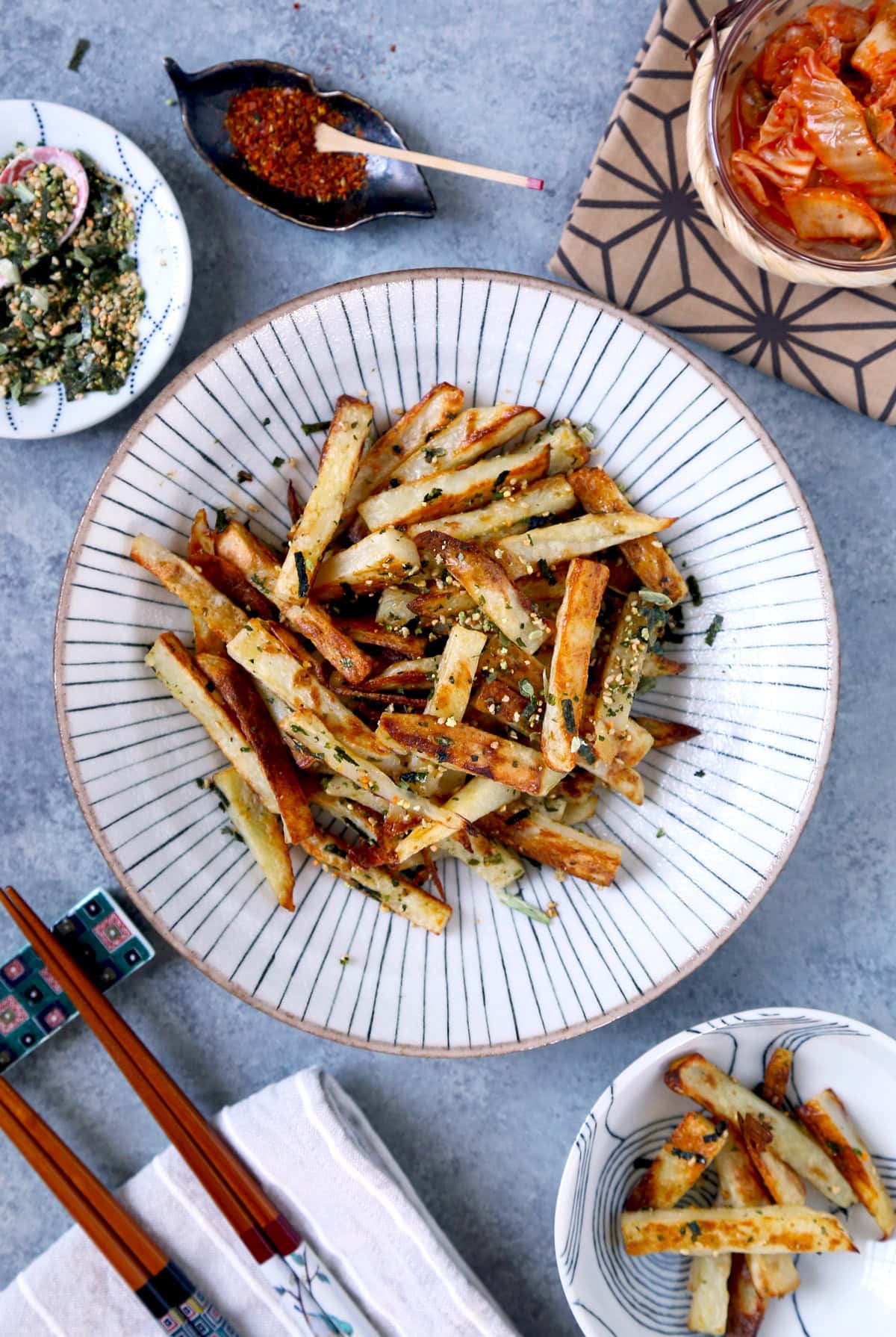 How to Store Leftovers
You can store leftovers in an airtight food storage container in the fridge for up to 3 days. That said, these roasted furikake potatoes definitely taste best fresh out of the oven.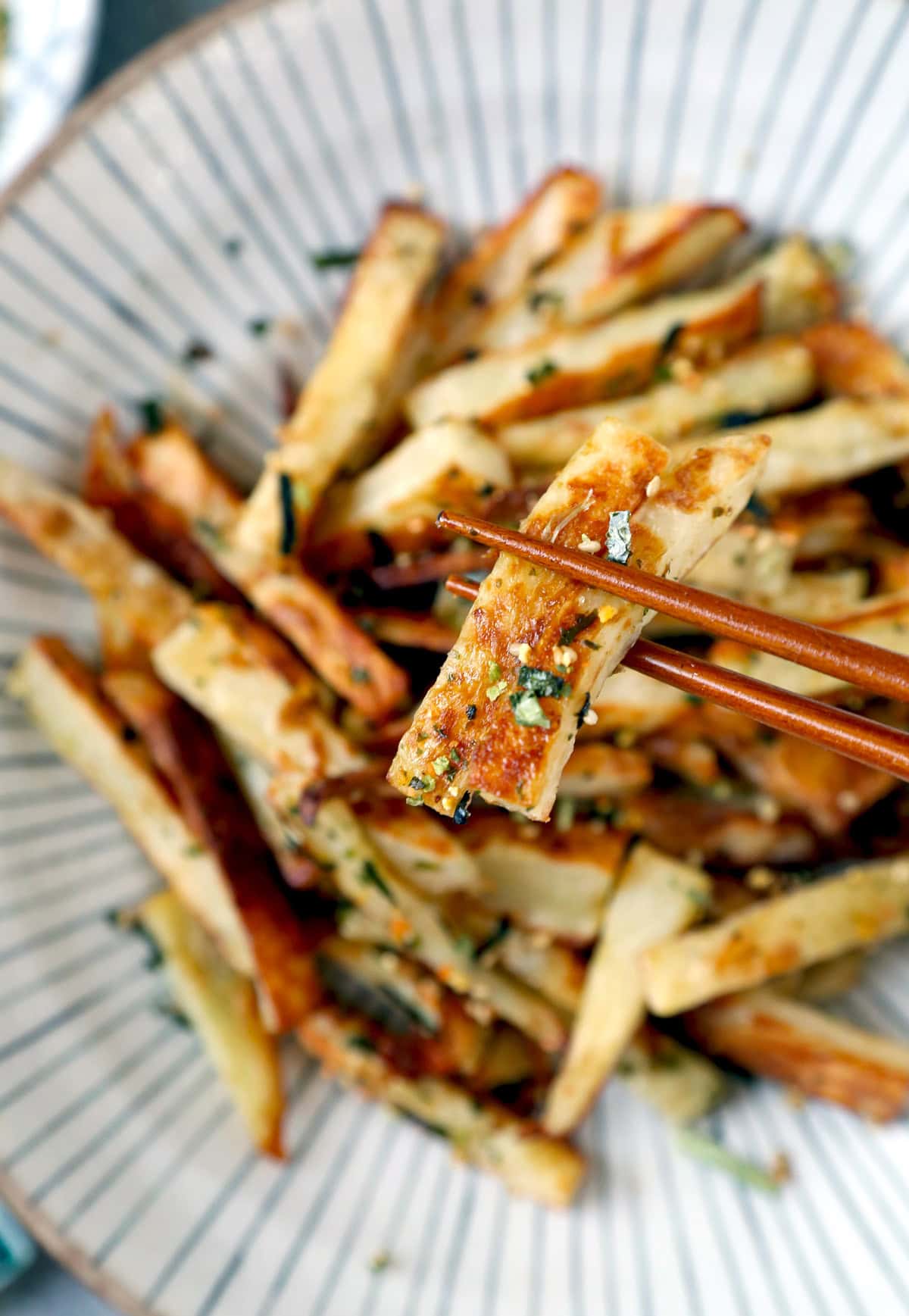 Did you like this furikake French fries recipe? Are there changes you made that you would like to share? Share your tips and recommendations in the comments section below!
Print
Furikake Potatoes
Author: Caroline Phelps
Prep Time:

10 minutes

Cook Time:

30 minutes

Total Time:

40 minutes

Yield:

2

servings

1

x
Category:

Side

Method:

Roasting

Cuisine:

Japanese

Diet:

Vegetarian
2

large russet potatoes

2 tablespoons

extra virgin olive oil

1 teaspoon

soy sauce

2 tablespoons

furikake
Salt and pepper, to taste
Instructions
Preheat the oven to 425ºF.
Cover a large sheet pan with parchment paper or non-stick foil and set aside.
Peel the potatoes and slice them into ½ -inch thick sticks – somewhere between regular fries and steak fries.
Place the sliced potatoes in cold water and leave for 20 minutes. This helps remove some of the starch.
Drain the potatoes, rinse under water and drain them again. Transfer them to a bowl.
Pat the potatoes with a paper towel until they are dry and add one tablespoon of olive oil. Gently toss the potatoes using your fingers and season with salt.
Place the potatoes on the sheet pan in one even layer.
Roast for 20 minutes and flip them over. Roast for an additional 10 minutes.
Take them out of the oven and return the potatoes to the bowl.
Drizzle the remaining tablespoon of olive oil, the soy sauce, and sprinkle one tablespoon of furikake.
Toss well and add the remaining tablespoon of furikake. Toss again and serve.
Notes
These potatoes taste best when served right out of the oven because of their crispy outer texture. If you do have leftovers, transfer them to an airtight storage container and refrigerate for up to 3 days. 
Nutrition
Serving Size:

1 serving

Calories:

440

Sugar:

3.4g

Sodium:

96.9mg

Fat:

15.5g

Saturated Fat:

2.3g

Unsaturated Fat:

2.4g

Trans Fat:

0g

Carbohydrates:

72g

Fiber:

8g

Protein:

9.4g

Cholesterol:

0mg
Recipe Card powered by